Ceiling Fan Installation and Repair in Santa Ana, CA
Orange County Electricians Serving Tustin, Anaheim, Irvine, Huntington Beach & More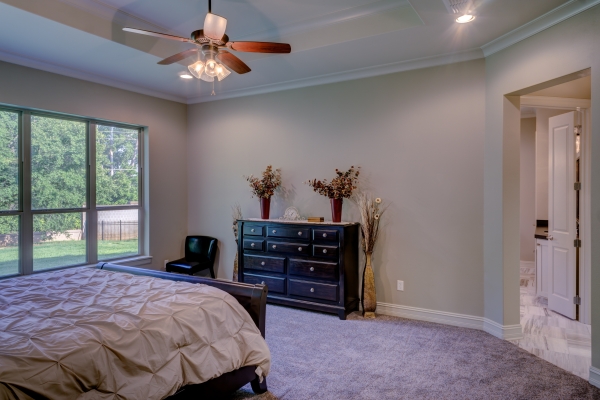 At Express Electrical Services, our Santa Ana electricians are trained and experienced with installing ceiling fans and providing fast and dependable ceiling fan repairs. We serve all of Southern California and our certified technicians can safely install any kind of wiring fixture, device, or component. Customers have depended on us since 1982 for electrical installations, inspections, repairs, and upgrades; our Orange County electrician is available 24/7 in case you have an electrical emergency that requires urgent attention.
Benefits of Installing a Ceiling Fan
Comfort and visual appeal are what most people associate with ceiling fans. However, there are more advantages to having our skilled electrical contractors install such a fixture. They include:
Ceiling Fan Installation in Santa Ana & Orange County
Whether your room is wired for a fan or does not yet have the proper wiring, our electricians in Santa Ana can install any type or style of ceiling fan. You don't even need all the wiring connections in place for us to perform a complete installation.
Call our electrician even if you have the proper connection. Our ceiling fan installation contractor can address any safety issues without incident and ensure the process goes smoothly. You'll be able to use your ceiling fan as soon as we're done. If you don't have a connection or a fixture installed, we can provide a ceiling fan mounting box with the wiring, bracing, and electrical components needed to complete the job.
Installing a ceiling fan box requires skill and expertise. Our electricians will run all the electrical wiring to power the fan and ensure it works properly. You can therefore avoid contact with hazardous electrical parts that can cause shocks, burns, and other injuries if mishandled.
Indoor vs Outdoor Ceiling Fans
Indoor ceiling fans can hold up inside your home and provide an ideal cooling solution, but they are not designed for exposure to outside elements. Outdoor fans are either damp-rated or wet rated. Damp-rated fans can tolerate humidity and are ideal for enclosed spaces such as a patio or garage, or extremely humid indoor spaces such as garages or bathrooms.
Wet-rated fans, on the other hand, can withstand direct exposure to rain, snow, and wind. They are suited for areas that are only partially covered. The casing is completely sealed, so internal components and wiring are always protected, avoiding electrical shorts even if the fan is operated while it's raining. You can even use a garden hose to rinse off the fan.
Ceiling Fan Styles
Outdoor fans come with various decorative choices, including tropical designs with blades that look like palm fronds or tropical plants. Most homes with indoor ceiling fans have standard units that point downward and have five blades and a built-in light fixture. Other types include hanging propeller, low-profile, directional, and rotational fans. You can also order a ceiling fan with a remote for added convenience. However, the basic styles you typically find include:
Generally monochrome with a minimalistic look, contemporary fans have a sleek appearance and provide a modern feel.
Classic fans often have wooden blades, ornamental designs, and antique-style patterns that invoke a sense of the past.
Fans that blend contemporary and traditional styles can be installed in just about any type of room, and suit any style or design.
How to Troubleshoot Your Ceiling Fan
First, check the switch, circuit breaker, or fuse if your ceiling fan stops working. That's about the limit of what you can do safely on your own. Otherwise, troubleshooting the problem requires a technician who can use a voltage tester to determine the source of a problem. Replacing wires, motors, or capacitors is something to leave to the experts as well. Call us if there are issues with blade-turning, the fan wobbles, or its motor starts to hum.
Ceiling Fan FAQs:
Call Our Santa Ana Electrician for Ceiling Fan Repair
Serving all of California, Express Electrical Services provides professional ceiling and attic fan installation, maintenance, and repairs. Financing is available to help you afford electrical repairs. For service by our Santa Ana electrician and information on ceiling fan installation, options, and specials/coupons, call us at 714-406-1322 or fill out our contact form online.
CITIES WE SERVE
REQUEST SERVICE