Here at Express Electrical Service, we understand that large plumbing and electrical repairs are rarely in the budget. Through Ygrene and GreenSky, we are proud to be able to offer financing plans to help you pay for your big repair and replacement jobs. No longer do you have to wonder whether or not you can afford that electrical repair that you've been putting off. So don't hesitate. Call us to find out more about our financing options today!
Instant Financing
If you are looking to improve your home with newer, more energy efficient appliances and fixtures, click on the button below to get started! The All-In-One Financial Tool by Payzer allows you to make a payment or get instant financing for your electrical services.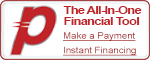 Contact Express Electrical Services Today
The professional plumbers and electricians that work for us are some of the best in the business. We always come highly recommended by our many satisfied customers. We offer financing for those big repairs and replacements through both Ygrene WorksTM and GreenSky. So don't let cost keep you from getting the repairs you need. Contact us to learn more about our financing options today.