Electricians Serving Orange County, Riverside County, San Bernardino County & Ventura County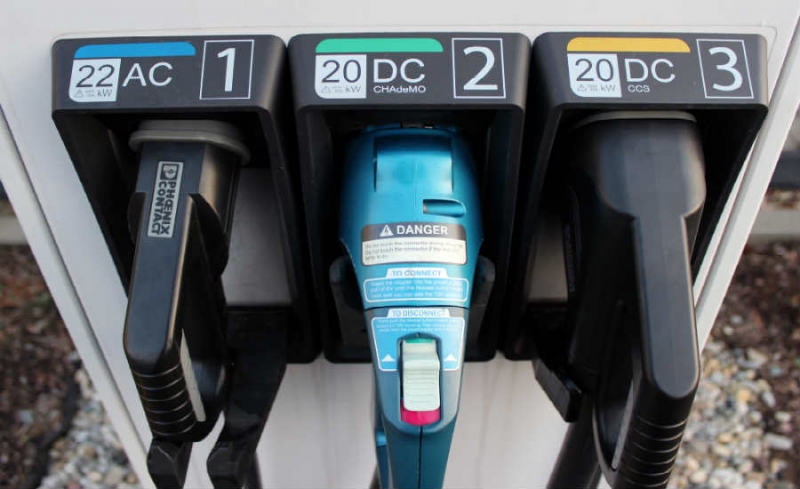 Today, electric vehicles (EV) are all the rage in the automotive industry, offering unparalleled fuel economy, a quiet, comfortable ride, and, in some cases, even more power than their gas-burning counterparts.
If you buy an electric vehicle, though, you're going to need a way to charge it. Electric vehicle charging is by far the biggest challenge to overcome when you own an electric vehicle, and with electric car charging station costs going through the roof, many owners are choosing to install their own EV charging stations. If you would like to have the ability to charge your electric vehicle from your own Southern California home, Express Electrical Services is able to help with the electric car charging station installation process.
Different Types of EV Chargers
When it comes time to charge your electric vehicle, you've got three different options: level 1 charging, a level 2 charger, or DC fast charging. The first step in your EV charging stations installation process is deciding which charging method is best for you, so we'll take a look at the pros and cons of each one.
Level 1 Charging</storng >
Level 1 EV charging stations involve plugging your vehicle directly into an ordinary household outlet. With level 1 charging, you don't have to purchase or install any additional equipment, however, the rate it which level 1 charging charges a vehicle is less than optimum. You can expect to get about 4.5 miles for every hour of charge. If that's too slow for your schedule, you'll want to look into one of the other two electronic car charging station options.
Level 2 Charging
Installing a level 2 EV charger is the most popular option for most electric vehicle owners. Level 2 chargers are able to charge a vehicle many times faster than level 1 charging while also being more affordable than DC fast chargers. With level 2 EV charging stations, you can expect to get about 70 miles of range per hour of charging, depending on your specific vehicle.
DC Fast Charging</storng >
The fastest charging option available, DC fast chargers are able to provide about 40 miles of range for every ten minutes of charging. However, they also cost up to $100,000 and require more power than the typical home is able to provide, meaning that these chargers are used almost exclusively by commercial EV charging stations.
Which EV Charger Do I Need?
Given the cost and power demands of DC fast charging, most people will have either level 1 charging or level 2 charging to choose from. If you don't do a lot of driving and can afford to charge your vehicle at an incredibly slow pace, level 1 charging can be an adequate solution. For most EV owners, though, level 2 charging is the most practical option.
Another important factor to consider when making your selection is the fact that the state of California is offering rebates on level 2 EV charging stations that are installed in homes and businesses.
How Express Electrical Services Can Help With Your EV Charger Installation, Repair or Replacement
Installing a level 2 charger is a highly technical process, and if you do it wrong, it could present a fire or electric shock hazard. With this being the case, it's best to trust an experienced Los Angeles electrician with the installation of your level 2 EV charger.
If you are searching for an electrician in Los Angeles to help you with your electric car charger installation, we invite you to contact us today or browse our available coupons to see what discounts are available.
At Express Electrical Services, we're experts at EV charger installation, offering 24/7 availability, a 60-90* minute response time, and a quality guarantee that is backed by our 25 years of experience. To make the entire process even more affordable, we also offer a fix now pay later program on approved credit.
We service all of Southern California, and even have locations in Santa Ana & Riverside to be able to provide faster and reliable electrical services.