High-Quality Repair Services from Qualified, Fully Licensed Electricians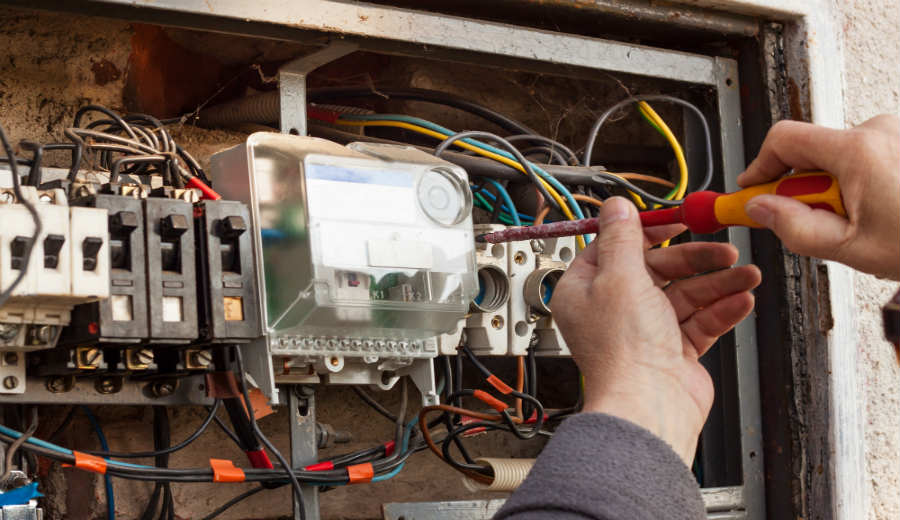 Express Electrical Services has been proudly serving Southern California since 1982. You might not think much about your electrical system until something goes wrong. But even a small issue with wiring, lighting, or an appliance can put your safety at risk. Our Los Angeles electricians are ready to fix the problem whether you're dealing with flickering lights, a power surge, or an outage in your home or business.
Electrical Repair Services We Offer
We provide many types of electrical repair in Los Angeles. Our customers can count on us, day or night, for help with:
Residential Electrical Repair

– Home electrical systems most often use single-phase equipment; power requirements generally range from 120 volts to 240 volts. Our electricians can help with fixture and appliance maintenance and repair as well as provide rewiring and inspection services.

Commercial Electrical Repair

– Commercial properties often use three-phase electrical systems. To accommodate load requirements, conductors can carry from 120 volts to 480 volts. Generally, commercial electrical systems are larger and more complex, with more sophisticated controls. Our technicians

are familiar with these and

can address the electrical needs of businesses, commercial buildings, public facilities, factories, and more.

Emergency Electrical Repair

– Express Electrical Services can be reached 24/7 in emergencies. Call us right away if a circuit breaker trips repeatedly or

you notice

flickering/dimming lights, sparking outlets, burning plastic smells, or buzzing noises from your service panel or other electrical equipment. Damaged cords and faulty ground fault circuit interrupters (GFCIs) must

also

be addressed quickly.
Why Choose Express Electrical Services for Electrical Repair
We are a family-owned and operated business known for our reliability, efficiency, and effectiveness. Our company has a long-standing reputation for quality service by experienced L.A. electricians. With Express Electrical Services, you benefit from the following:
A commitment to 100% customer satisfaction

Trained, knowledgeable, and state-certified technicians

24/7 availability in emergencies and same-day service

High-quality products, materials, and workmanship no matter the size and scope of the job

Fully stocked trucks with the parts needed to fix any problem on the spot

Electricians arrive at your home within 60 to 90 minutes of your call

Competitive pricing and discounts on electrical installation and repair
Types of Repairs We Handle
Our customers count on us for all types of electrical repair in Los Angeles. Examples of our areas of expertise include:
Circuit Breaker Repair and Replacement

– Circuit breakers are designed to cut off power when a circuit is overloaded. A faulty breaker

can fail to trip, which can

cause a wire or component to overheat

and

start a fire. Mechanical issues, wiring problems, and wear and tear can require breaker repair and replacement, which our electricians can perform quickly and safely.

Electrical Outlet Repair and Installation

– A hot, sparking, charred, buzzing, or nonfunctional outlet must be serviced by a professional. We replace faulty outlets and two-prong with three-prong receptacles. Our technicians can also help with GFCI outlet installation to protect against electric shock in damp areas.

Panel Upgrade and Replacement

– A well-maintained electrical panel can last a few decades. Damage and wear and tear warrant replacing it. If you have an older panel, we'll install a new one rated at 100 to 200 amps to meet current standards and support the power requirements of modern appliances and electronics.

Home Rewiring

– If your home was built before 1950 or renovated in the 1960s or 1970s, it may have older wiring that's cloth-insulated or made of aluminum. These are both known fire hazards. Our

L.A. electricians

install modern wiring with proper grounding, and that helps avoid using extension cords or dealing with tripping breakers or flickering/dimming lights. 

Indoor/Outdoor Lighting

– Our lighting experts can repair lights by replacing a bulb, lens, socket, wire, or junction box. They install/repair LED, accent, and recessed lighting as well as chandeliers and lighting controls. Outdoor flood lights, motion-activated lights, and spotlights as well as outdoor electrical panels and circuit breakers can also be repaired when necessary.

Home Safety Services

– In addition to installing them, we can troubleshoot and fix carbon monoxide and smoke detectors, security lighting, and whole-home surge protection systems. We'll make sure equipment is up to date and there are no issues that can compromise your home safety and security.

Ceiling Fans

– A ceiling fan is a complex assembly and contains wiring and other electrical components that can be dangerous to work with. Our

Los Angeles area electricians

can find the source of an issue and provide a permanent repair so any fan is once again safe to use.

Electric Vehicle (EV) Chargers

– If an EV charger is installed in your home, it can develop issues over time. Our electricians are trained to spot and repair any problems so your car can be charged in less time and it costs less to keep it on a full charge.
Express Electrical Services is Available 24/7
When you need an electrical repair, the situation is often an emergency. We respond within 60 to 90 minutes to address problems that cannot wait. An electrical malfunction can cause a shock, burn, or electrocution. Far too many injuries and fatalities occur every year due to home electrical mishaps. Sparks, fires, and explosions also occur and can be prevented with prompt electrical repair by our qualified L.A. electricians. Prompt service and fully stocked trucks allow us to address any issue on the spot and restore your safety.
Cost of Emergency Electrical Repair
We help make it easier for home and business owners to afford electrical repairs. A few financing options are available when you need larger repairs or an equipment replacement. Therefore, you don't have to put off electrical repair in Los Angeles to save up for it. With financing, we can fix it now and you can spread the costs out over time with an affordable payment plan.
Request Electrical Repair in Los Angeles
Express Electrical Services is an experienced, 24-hour electrical repair company known for prompt service, permanent solutions, and a commitment to customer satisfaction. Our Los Angeles electricians are licensed and extensively trained. We're available in emergencies and specialize in all types of residential and commercial electrical repair in Southern California. To schedule repairs, book service online or call (888) 741-6404 to speak with us directly.