Home Electrical Automation in Los Angeles
Licensed Electricians Serving Southern California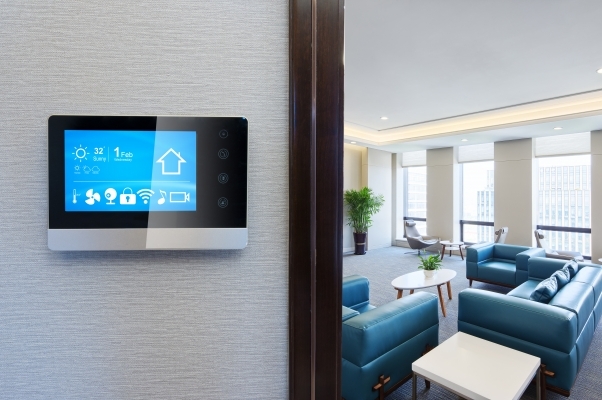 Haven't you always wanted one of those "smart houses" previously seen only in crazy sci-fi flicks? Well, now they are a reality. (Sort of.)
Yes, home electrical automation is real and it's here to stay. At Express Electrical Services, we love it not only for its ease-of-use, but also for its energy and money saving qualities. More control means superior household management. That means enhanced lighting capabilities as well as decreased utility bills.
BENEFITS OF HOME ELECTRICAL AUTOMATION
It's not rocket science—more direct control equals enhanced convenience and more financial savings. Frankly, we are hard-pressed to think of a single downside to home electrical automation. Let's take a look at the bounty of advantages and benefits of technological home enhancements:
If you decided that the benefits of smart house technology are a good fit for your home, hiring an experienced home automation electrician is the best way to get your smart home devices installed correctly in little time at all. At Express Electrical Services, our Los Angeles electricians offer a number of home automation services including:
HOME AUTOMATION: A WIN-WIN SOLUTION
The experts at Express Electric have been working hard to maintain the safety, financial viability and brightness of Southern Californi homes for over 25 years and we know what it takes to ensure superior quality service and security.
Consider a home electrical automation install or update so you too may reap the benefits of this convenient wireless technology. Contact our electricians in Los Angeles to learn more.
WHY CHOOSE EXPRESS ELECTRICAL SERVICES?
At Express Electrical Services, our experienced electricians are experts at home automation. We offer 24 hour electrician services, a 60-90*minute response time, fix it now and pay later on approved credit, and are proud to serve all of Southern California. Best of all, our 25 years of experience and our staff of professional, licensed electricians allows us to offer a quality guarantee on all the work we complete.
If you are searching for the perfect Los Angeles electrician to complete your home automation project, we invite you to contact us today. Or for the best deals on hiring an electrician in Los Angeles, feel free to browse through our available coupons.
YOU'LL LOVE WORKING WITH US
Customers have rated Express Electrical Services as their reliable & trusted Electricians in Los Angles & the surrounding Southern California area. We have been rated 4.9 out 5 based off of 326 reviews. See what our customers have to say!