New Year's Resolution to Improve Your Electrical System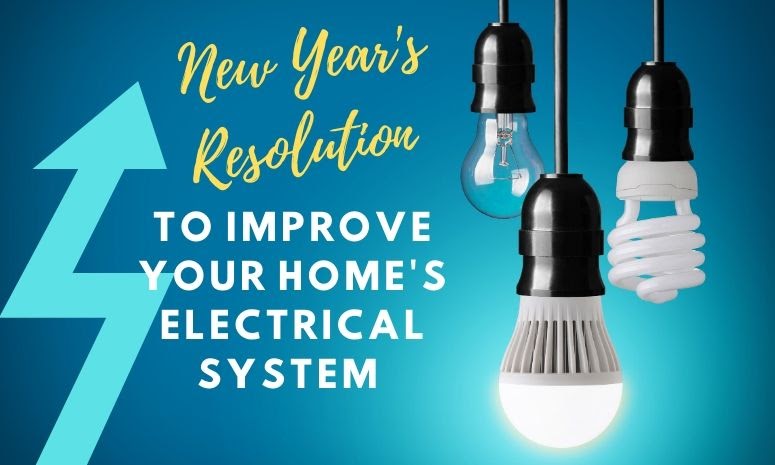 New Year's resolutions don't necessarily have to be about quitting smoking or weight loss. Saving money and conserving resources is an enticing motivator as well. Taking a quick inventory of your home's basic functions can reveal some simple fixes that can save you major bucks this new year. 
Professional electricians recommend that homeowners conduct a yearly electrical inspection to troubleshoot potential problems and make improvements. A whole-home electrical check-up can make a huge difference in your utility bill over the next twelve months. What better time is there to conduct routine maintenance on your home so that it's in perfect working order? 
Signs That Your Home Is Ready for a Thorough Electrical Check-Up
Ensuring that your electrical system is in good shape is extremely important. Testing your appliances, inspecting your home's wiring, and checking your breaker box for any signs of trouble is essential. This is especially vital if your home is twenty-five years or older. So what are some signs that your home is due for an electrical check-up? 
Is your home over 25 years old? 

Did you notice that your holiday decorations were tripping your breaker more often this season? 

Have you experienced flickering lights throughout your home?

Do you have sockets that are no longer working? 

Have you noticed that your light switches and fittings are warmer than usual? 
It is easy to chalk these minor glitches up to being nothing more than a nuisance. But in reality, catching electrical problems early can save you the hassle of costly repairs, and also help you conserve energy throughout the year. If you have witnessed any of the aforementioned anomalies, it may be time to call your local electrician so they can perform a thorough electrical inspection on your home or business. 
Electrical System Check-Up & Safety Measures
Even the simplest of electrical improvements can make a world of difference to your utility bill. We have compiled a comprehensive checklist that you can do on your own to save you money, keep your family safe, and ensure your home's electrical system is in tip-top shape in the new year. 
Test Smoke Detector and Replace Batteries – Seems like an obvious chore, but you'd be surprised how many people don't regularly replace the batteries in their smoke detector, much less test them to see that they are even working. Most smoke detectors have a test button on the face of the unit that allowed you to easily test them to see that they are working. Replacing the batteries in your smoke detector should be done at least once a year, and you should replace the entire smoke detector every 10 years. What better time than now? 
Install Carbon Monoxide Detectors – If you haven't installed carbon monoxide detectors yet, the new year is a perfect time to add this safety feature to your home. Gas leaks are nearly odorless and are a very real danger to everyone living in the home. The best defense you have is to detect the leak the moment it starts and safely evacuate your family until a licensed electrician can arrive and assess the situation. Newer carbon monoxide detectors need to be replaced every 5-6 years, while the older ones need to be replaced every 3 years. 
 Reset Your Ground-Fault Circuit Interrupter (GFCI) Outlets – Little do homeowners know, but you should be resetting your GFCI outlets every month, yet that rarely happens. Chances are you most likely have outlets with test/reset buttons in your home. Typically these outlets are located in areas of the home that experience more moisture than other rooms, like the bathroom and kitchen. Locate these outlets and press the test/reset button to make sure the outlets trip and reset correctly. You should include this in your monthly home maintenance routine to ensure all your outlets are in proper working order. If you do find that your GFCI outlets aren't responding properly, you should immediately contact your electrician to take a closer look. 
Have a Whole-House Surge Protector Installed – Power surges can happen at any time, but do occur more frequently in the winter months due to the strain that holiday decorations and heating systems put on the grid. These surges, however common, do put added strain on your electrical system. They can destroy appliances, computers, electronics, and in some cases can even cause electrical fires. To avoid damage to your circuitry, it is advised you install a whole-house surge protector to create an additional barrier of protection during the busy holiday months. 
Swap Traditional Light Bulbs for Energy Efficient LEDs – While you may be some sticker shock at the initial cost of installing LED lights, they do pay for themselves in about 10 years. The energy savings over time is a huge incentive for homeowners to install LED Energy Star qualified bulbs. LED lighting uses 75% less energy, emits less heat, and are more durable than traditional light bulbs. They also come with a 3-year guarantee and last 35-50 times longer than incandescent bulbs. So treat yourself to new lighting for a new year by installing energy-efficient LED lighting in your household. 
Consider Installing a Programmable Thermostat – Sounds complicated, but it really isn't. Installing a thermostat that can be programmed can shave off up to 10% from your yearly heating and cooling costs. Depending on your desired temperature, you can program your thermostat to keep it warmer at night and cooler during the day when you're most active in your home or vice versa. This also comes in handy for when you are away from home. You can program your HVAC system to only turn on periodically to save you serious bucks when no one is home.  
How to Reduce Your Overall Energy Consumption
Creating new energy-saving habits in the new year is not only better for the environment, but can help you save money. A few simple reminders can assist in making it a part of your everyday routine. There are a variety of ways to reduce your energy consumption like turning lights off when you leave a room, unplugging appliances and electronics that aren't being used, and using energy-efficient lightbulbs. Try to include the entire family in adopting these new habits. Whether you choose to check off one or all of these maintenance techniques, if you do notice that your lights are flickering or something is amiss, don't hesitate to call the trusted professionals at Express Electrical. We can help conduct a thorough home electrical inspection to give your home a clean bill of health going into 2020. 
Contact Express Electrical Services
Express Electrical wants you to save money and stay safe in the new year. Express Electrical is one of the leading electricians in Los Angeles. Call us today for a complete home electrical system check-up: (805) 250-6397
Share This Post!