Outdoor Wall Lighting Ideas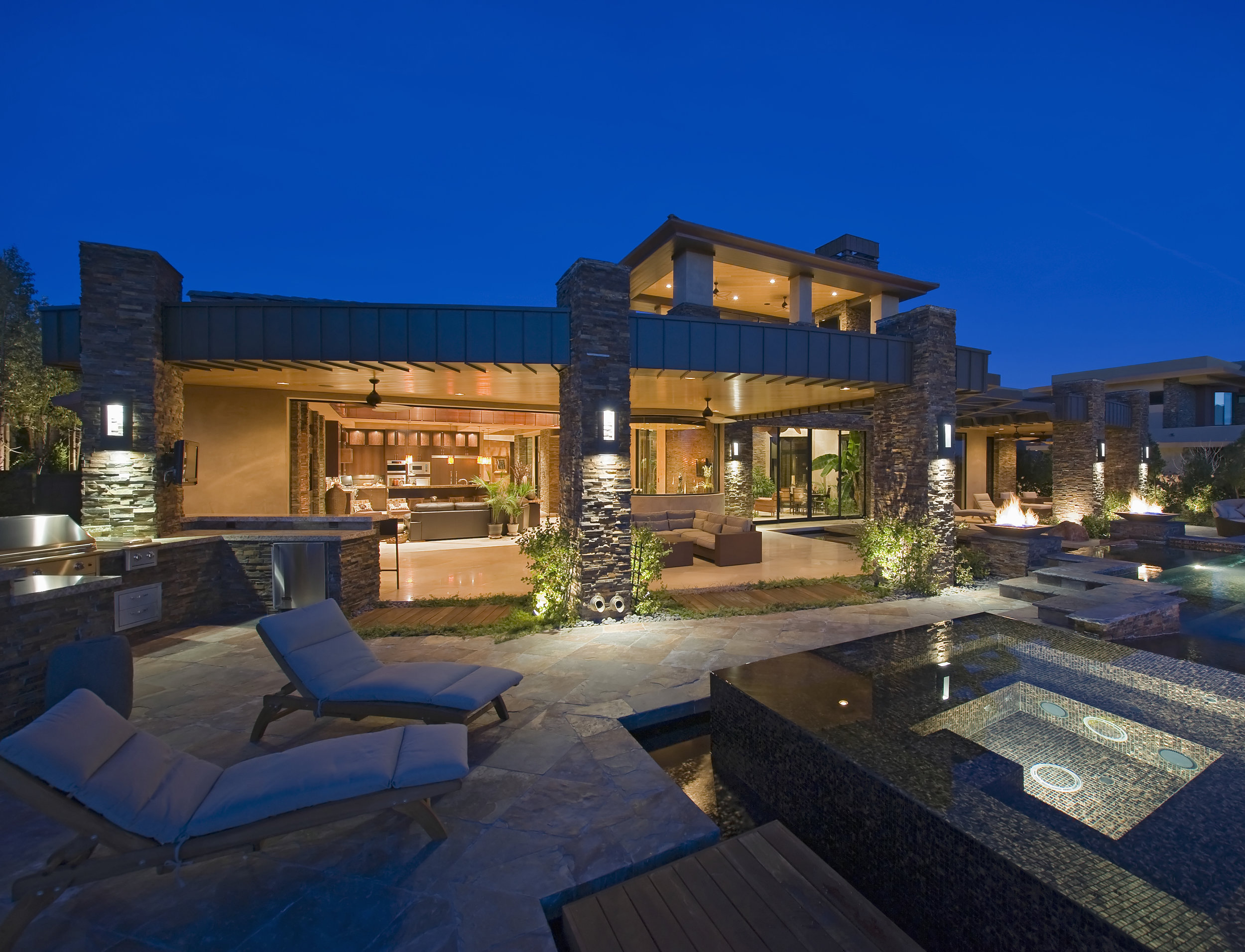 The warmer weather has offered a more than ideal atmosphere to spend long afternoons and evenings outside enjoying your patio or backyard. Whether grilling-out or simply lounging in a lawn chair, when the sun starts to dip low in the sky, you can always benefit from some outdoor lighting to help the good times last longer.  
The right outdoor lighting can go a long way. You could transform the outside of your home into a glowing wonderland of warm lights and illuminated pathways. But outdoor lighting can add more than ambiance to the exterior of your home. It can also make your outdoor space safer for family and guests, while acting as a security measure when you're away from home. 
Outdoor Wall Lighting Ideas to Brighten up Your Home 
If you are considering updating the exterior of your property with the proper lighting, you'll want to consider several factors. We'll help you map out where lights are needed and what kind of lighting is suitable for specific areas. Here are some lighting tips for brightening up the outside of your home to make it a safer and more beautiful place to celebrate life. 
Why Install Outdoor Wall Lights?
Safety

– Considering the safety of your family and friends should always be a top priority. Adequately lighting up pathways, outdoor steps, and inclines will help to prevent accidental stumbling in the darkness.

Solar-powered path lights

are an inexpensive and effective way to ensure that your driveway, sidewalks, and any outdoor staircases are always illuminated in the evening hours. Solar-powered path lights will charge during the day and come on when the sun goes down. This way, you don't have to worry about running electricity to them. 

Ambiance

– Adding overhead string lighting to outdoor areas or uplighting to patio columns can really increase the relaxation level of any exterior space. They not only provide a warm glow that soothes your guests, but also provide enough light so you can enjoy a peaceful dinner outside or an early evening cocktail. 

Curb Appeal

– Whether your goal is to sell your home or not, increasing your curb appeal is always a good thing. Adding the perfect outdoor lighting to the exterior of your home adds style, elegance, and more importantly, increases the resale value of your home. 

Security

– When the exterior of your home isn't properly illuminated, it can arguably welcome unsavory characters, like burglars or even large animals. Installing floodlights or motion sensor security lights above the garage and around the outside of your home can really discourage unwanted visitors from wearing out their welcome. And just like the solar-powered path lights that we spoke about earlier, you have the option of installing motion sensor lights that can be powered by the sun as well. 
Outdoor Wall Lighting Options
The outdoor lighting industry has exploded over the last three decades. Now, you can find outdoor lighting that serves a wide range of purposes and comes in a variety of designs, colors, and power sources. Here are some of the most popular outdoor lighting options.  
Wall Sconces

– Wall sconces are a very popular and extremely versatile choice for outdoor lighting fixtures. Wall sconces can either provide uplighting, downlighting or cast light in both directions depending on how much light is needed. These lights are typically affixed to outdoor support columns or along the walls of a patio or outdoor dining area. 

Hanging Lanterns

– Lanterns have grown in popularity in the last few years. Depending on the style you're aiming for, hanging lanterns come in a wide range of designs to create a modern or traditional aesthetic. When choosing outdoor hanging lanterns, there are a few factors to consider, including style, size, and placement. If you desire more light, you'll want to choose a lantern that holds 3 or more bulbs. If you want a dimmer, more intimate setting, then you can opt for a hanging lantern with a single bulb. 

Flood Lights

– Floodlights are intended for maximum illumination. As the name suggests, these outdoor lights 'flood' the intended space with light. These are great for driveways, the outside of your garage, corners of the home that don't normally get much foot traffic, and entertainment areas that are used for recreation at night.

Pendant Lighting

– Outdoor pendant lighting is a great opportunity to get creative and show off your personal style. Pendant lights are typically a single hanging light that would hang above a dining table or hang from the center of a pergola. These amazing outdoor lighting options come in a variety of shapes and materials and can even act as a piece of art in some instances. 

Ceiling Lights

– Outdoor ceiling lights are non-hanging lights that are mounted on the ceiling rather than a wall or support column. Not unlike pendant lights, ceiling lights are typically a single light that is recessed and provides adequate light for front entryways, back doorways, and front porches. 
How to Choose the Right Outdoor Wall Lighting
Transforming the exterior of your home to a well-lit functional outdoor space takes planning and serious consideration. It is important to put together a budget and make a list of areas and objectives in order of importance. Consider what materials will work best with the architecture of your home and accentuate its best features. Depending on the exterior design elements of your home and outdoor entertainment areas, you can choose from a wide range of materials like wrought iron, copper, bronze, brass, and even chrome. 
Another important factor to consider is the power source. This will dictate the level of maintenance and responsibility that is needed to properly install and operate your outdoor lighting features. LED lights typically use the least amount of electricity for the amount of light they emit and are a popular choice amongst homeowners. 
Lastly, if you have a sink in your BBQ area, pool, jacuzzi, or any outdoor area that has running water, you'll want to consider the UL wet-rating of the lighting you're installing. This will dictate how much exposure to the elements the light fixture can handle without being a safety hazard. As always, it is best to work with a licensed electrician when you are thinking about installing outdoor lighting, especially if you are updating multiple areas of your outdoor living space. 
Contact a Licensed Electrician to Help Install Outdoor Lighting Fixtures
Express Electrical is taking steps to follow CDC guidelines to the letter in regards to COVID-19. We are enacting added safety precautions to ensure our customers and their home environments are left undisturbed. Express Electrical considers our customers family and wants to give you the peace of mind you deserve in this trying time. 
Express Electrical Services champions homeowners that want to install more modern and functional outdoor lighting options. We offer superior Los Angeles lighting installation and repair to add value to your property and bring it into the 21st Century. To find out more, call us today at (855) 976-9049.