How to Choose Interior Lights for Your Home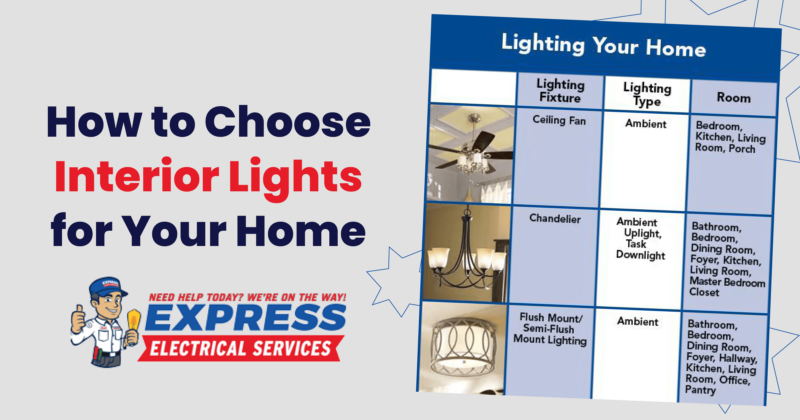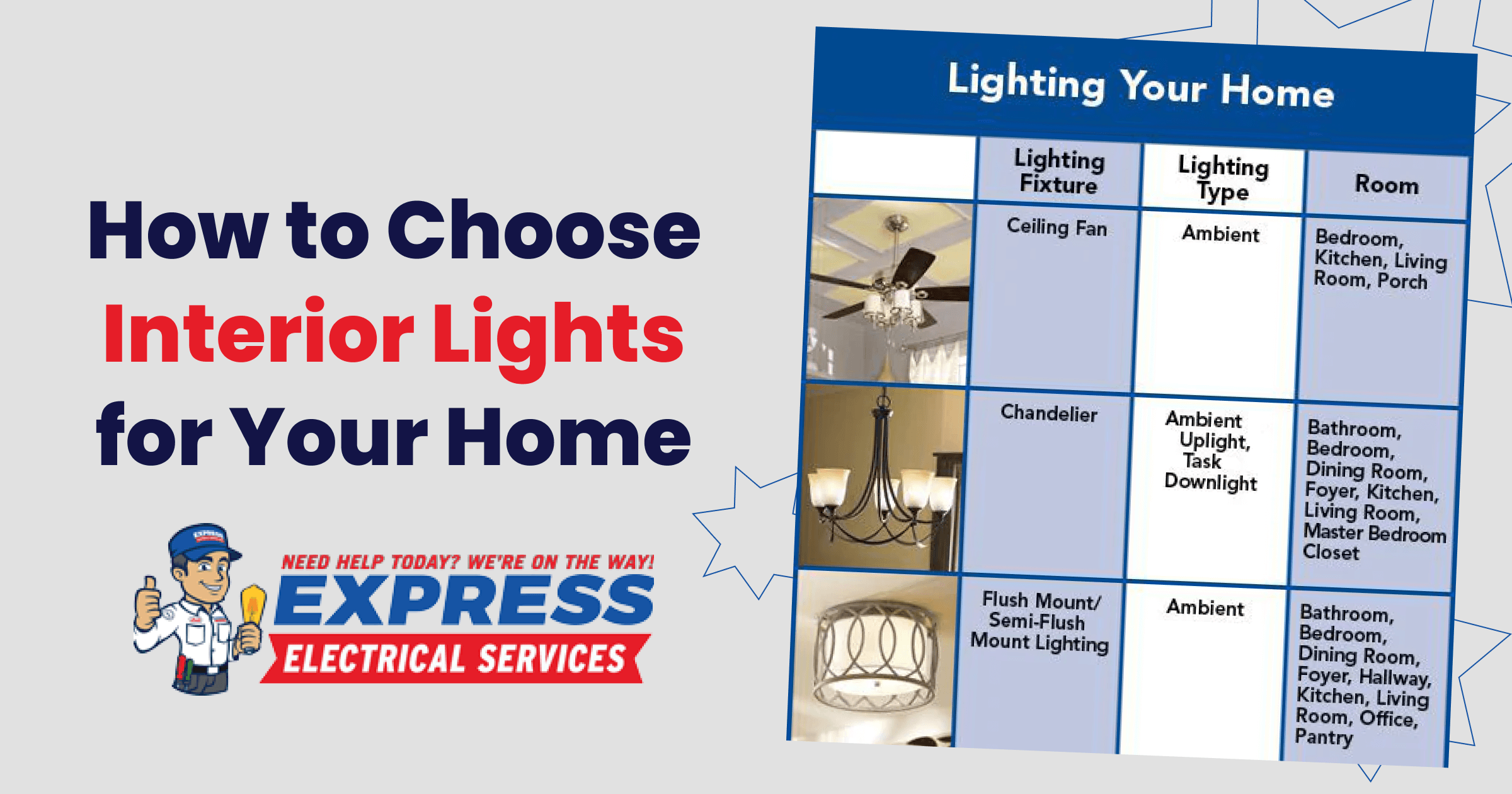 The importance of interior lighting is often overlooked. How you choose and incorporate interior lights affects not only aesthetics but the functionality of your home and your well-being. Lighting quality has been scientifically proven to impact emotions, behavior, and productivity as well as appetite, memory, and sleep. A lighting update can be more effective than remodeling your home, and here we'll look at how to select lights that can redefine your interior.
Fixture Type
A mix of lighting should be used for each room. There are many fixture types available, including fixtures that flush against a wall or ceiling. These are most often found in hallways and entryways, where space is limited, but may also be used in bedrooms. For areas with high ceilings or in kitchens/dining rooms, pendant lights that hang from the ceiling are common. They're often strung from a cord, chain, or cable.
Recessed lights, such as downlights, aren't directly visible as they're hidden within a ceiling cavity. They're suited for practically any room. Homeowners also often choose flexible lighting options such as track lighting, which features multiple bulbs on one track. It can be surface-mounted or installed like pendant lights. Track lights come in many styles, finishes, and colors.
Portable lights are an easy way to adapt your lighting design. Plugged in or battery-powered, they can be used for work desks, bedside tables, or as floor lamps. Portable fixtures provide a great way to diversify your lighting design.
Here's a look at some of the different types of light fixtures you can choose from:
Track Lighting
Uplighting
Suspended Linear Fluorescent Luminaires
Recessed Accent Lights
Recessed Round Wall-Washers
Recessed Can Lights
Decorative Pendant Downward Lights
Direct/Indirect Pendants
Track Lighting (metal halide, incandescent, etc.)
Portable Task Lighting
Wall Sconces
Parabolic Louver Fixtures
Use of Layers
Lighting designers generally recognize three layers of light. These include:
Ambient Lighting: Also known as general lighting, it is a necessity for any room and includes overhead lights such as ceiling fixtures, fans, chandeliers, recessed lighting, flush mount fixtures, sconces, track lighting, and pendants.
Task Lighting: Provides direct light for when cooking, reading, applying makeup, or using a bath or office. Desk lamps, mini pendants, work lamps, vanity lights, and under cabinet lighting fulfill this purpose.
Accent Lighting: Can highlight a painting, mantel, or another focal point of your home décor or provide a secondary light source. The lighting source is typically overhead, such as a track light, recessed light, or wall sconce.
Room/Location
It's important to choose interior lights based on where you install them. Here are some general examples:
Entryway: Create a warm welcome and strong impression with a pendant light near the door, track lighting for a wall wash, or accent lighting for artwork. Unless you have a high-ceiling, spacious entryway or foyer, go with flush mount or semi-flush mount lights.
Stairs/Hallways: Safety is critical here, so the area must be well-lit. Install fixtures every four to six feet. Varied light sources help provide the impression of space, but this depends on the size of the room and how you place fixtures
Living Room: Ambient lighting eliminates unlit areas or shadows (use flush mount and track lighting for ambiance). You can create accent lighting with track lights and wall sconces for even more accents. Ceiling fan, pendant lights, floor lamps, and chandeliers can highlight your primary living space as well.
Kitchen/Dining Room: Use layers so all work areas are well-lit. You don't want shadows to get in the way of preparing meals, so pendants work well. Undercabinet lighting, chandeliers, wall sconces, and table lamps are great for ensuring adequate lighting during cooking, mealtime, or game night.
Bedroom: Should combine ambient lighting and task lighting, with the scale and height of the room taken into consideration. Lights should not be installed above the bed. Also, pay attention to room color; increase the amount of ambient lighting for darker rooms, but if the room is smaller and lighter, you might not need as much, especially if you have lots of mirrors. Dimmers, color controls, and glare controls are ideal for bedrooms.
Bathroom: This is highly dependent on function, so focus on bright lighting free of shadows. Recessed lights free up space while neutral/cool lights near the mirror are useful. Pendants can be hung above a mirror or sink as well. Also, consider dimmable lighting over the tub or a small LED light on a GFCI outlet for nighttime illumination.
About Bulbs/Color Temperature
When selecting light bulbs, pay attention to wattage and lumens. Choose warm white color temperatures for living rooms and bedrooms and bright white temperatures for kitchens and workspaces. Lighting should simulate daylight conditions in studies and reading nooks.
Design Factors
When choosing interior lights for any room, consider its size, amount of space, ceiling height and shape, and the color of walls and furniture. Your existing lighting should be taken into consideration. Also look at the artwork and other areas of interest, shadows and reflections, traffic patterns, and your own preferences. Plus, there's light distribution, spatial perceptions, and electrical codes and specifications to account for.
Contact Express Electrical Services
Our professional lighting installers work with homeowners throughout Los Angeles. We design and integrate interior lights that optimize aesthetics, comfort, and safety. Quality lighting is one of the most cost-effective ways to improve the look and feel of your home as well as its value. Whether you need help with lighting selection and design or general electrical installation, contact Express Electrical Services at 323-727-7799.