Damp vs Wet-Rated Outdoor Ceiling Fans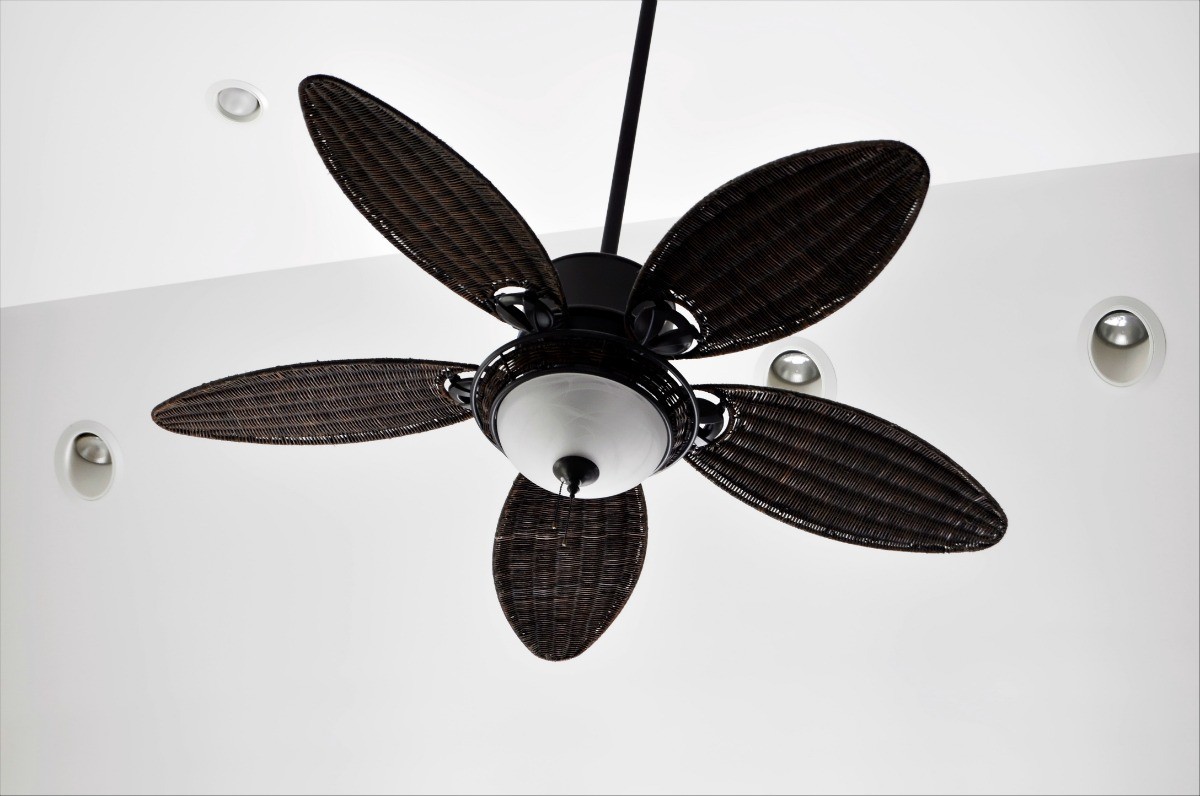 Nothing says summer fun like grilling out and enjoying a nice evening with family. The warmer weather has made spending time on your porch or patio a welcomed event. But as temperatures start to rise, some homeowners might want to consider installing an outdoor ceiling fan. Outdoor fans are a great way to cool off on those hot, humid nights and help ward off gnats and mosquitos. 
If you are thinking about buying an outdoor ceiling fan, there are several factors you'll want to take into consideration. Finding an outdoor ceiling fan that accents your home's design and style is one factor, but more importantly, there is a difference between damp and wet rated outdoor ceiling fans that will weigh heavily on your decision. Let's review how they differ and what is the best fit for your home. 
Damp vs. Wet-Rated Outdoor Ceiling Fans
The majority of homeowners don't realize that there is a significant difference between outdoor and indoor ceiling fans, and beyond that, there are even varying distinctions between what kind of outdoor ceiling fan you install depending on the location. 
All ceiling fans come with a UL rating. Also known as Underwriters Laboratories ratings, these certifications are intended to make appliances and products safer for consumers and workers. The UL ratings are generated by a third-party certification company and have been certifying products since 1894. 
UL ratings help consumers determine what ceiling fan to buy for a particular room or area of their home or business. This is based on moisture levels and how exposed the ceiling fan is to the elements. While dry-rated ceiling fans are specifically for indoor use, there is a difference between damp and wet-rated outdoor ceiling fans that you'll need to consider before making your purchase. Here's the difference:
What Is a Damp-Rated Outdoor Ceiling Fan? 
As the name suggests, UL damp-rated ceiling fans can handle some moisture and humidity but don't do well if they come in direct contact with rain or water. These fans are excellent for covered patios and in hallways to improve air circulation in your home or business.  
Recommended areas to install damp-rated ceiling fans: 
Covered patios 

Screened porches 

Screened-in decks 

Garages 

Covered walkways 

Bathrooms 

Covered hot tubs and jacuzzis 
What Is a Wet-Rated Outdoor Ceiling Fan?
UL wet-rated outdoor ceiling fans are designed to withstand the elements. These workhorses can handle every season of the year, whether it be rain, sleet, or snow. Wet-rated ceiling fans are immune to rust and can be washed down with an outdoor hose without skipping a beat. This is the ultimate in outdoor ceiling fans that will help you beat the heat without worrying about functionality. 
Recommended areas to install wet-rated ceiling fans: 
Open-air decks 

Exposed patios 

Verandas 

Lanais 

Partially-covered pool areas 

Cabanas 

Outdoor dining areas
What Is a UL Dry-Rated Ceiling Fan?
As one would assume, dry-rated fans are solely made for indoor use where moisture isn't a factor. If you make the mistake of installing a dry-rated ceiling fan in outdoor areas or bathrooms, they may not last very long and stop working rather quickly. 
Recommended areas for dry-rated ceiling fans:
Indoor dining rooms 

Indoor kitchens 

Bedrooms 

Hallways 

Foyers 
How to Choose the Best UL-Rated Ceiling Fan for Your Home 
To recap, understanding the difference between wet, dry, and damp-rated ceiling fans will make it easier for you to make an informed purchase. The last thing you want to do is install a dry-rated fan in an outdoor area only to have it quickly malfunction. 
Remember, it all comes down to how much moisture the ceiling fan fixture is being exposed to. If you live in a part of the United States that sees a significant amount of rainfall each summer, then it may be best to install a wet-rated outdoor ceiling fan in areas that receive the most moisture. Work your way indoors, paying close attention to how much moisture each room is exposed to. 
Having trouble deciding? Not to worry. If you are unsure of what UL-rated fan to install in a particular area of your home, the professionals at Express Electric are happy to help. Our technicians can provide you with all the information you need, as well as a wide variety of outdoor ceiling fan styles to choose from. 
Do You Want to Improve the Air Circulation in Your Home? Call Express Electrical
Express Electrical is taking steps to follow CDC guidelines to the letter in regards to COVID-19. We are enacting added safety precautions to ensure our customers and their home environments are left undisturbed. Express Electrical considers our customers family and wants to give you the peace of mind you deserve in this trying time. 
Express Electrical Services champions businesses and homeowners that want to adopt energy-efficient techniques and clean air practices. We offer superior Los Angeles ceiling fan installations and Inspections that can help you save electricity and improve your indoor environment. We can help you save money and give back to your planet. To find out more, call us today. 323.727.7799