5 Benefits of Ceiling Fans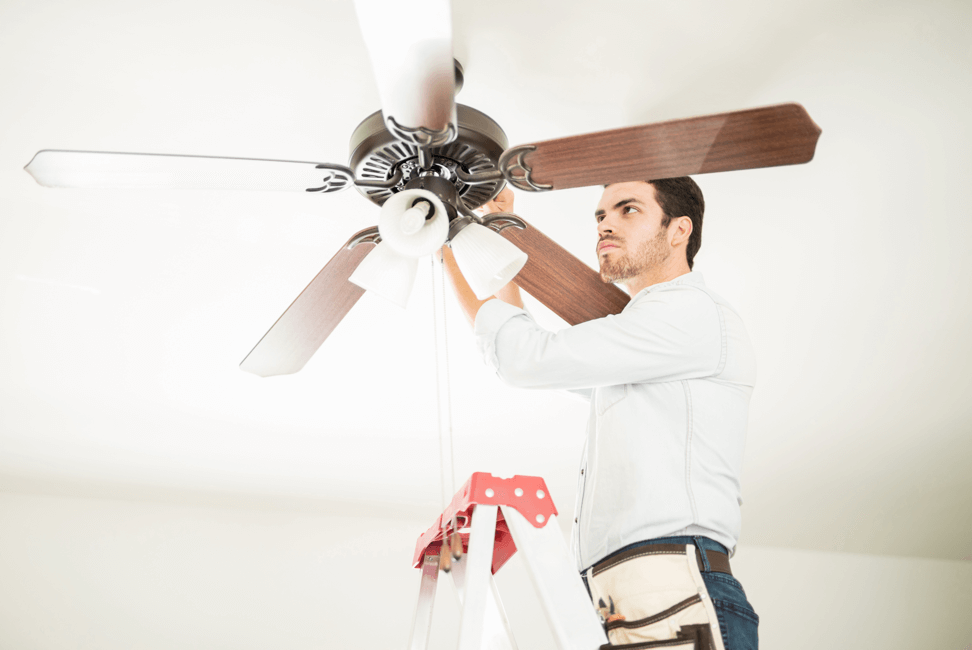 Many homeowners install ceiling fans to stay cool. Sure, fans are very useful in Southern California's mild climate. But there are many other advantages to ceiling fan installation, including energy cost savings, design and style choices, versatility, illumination, and year-round value. Here's a more in-depth look at why ceiling fans are so beneficial:
Reduced Energy Costs
A 30% to 40% reduction in your electric bill is possible. However, ceiling fans don't actually lower the temperature. The draft they provide makes it feel like it's cooler, and allows you to retain the same level of comfort even if you raise the thermostat a few degrees. In turn, this reduces demand on your heating or cooling system, so you use less energy and are charged less by the utility company.
Diversity in Style
A ceiling fan is an accessory driven by style, given the choice of styles, sizes, and finishes available. The fan you choose can complement the interior design of your home. In addition to its functional aspects, your fan can help make a statement. A ceiling fan can be the single focal point of a room and influence every other stylistic choice you make, from paint color to the type of carpeting and furniture selected.
Versatility for Any Room
You can install a ceiling fan in a living area, kitchen, bedroom, or even a screened-in outdoor porch. It can improve the environment no matter where it's installed. You can therefore enjoy comfort whether watching TV, making dinner, going to sleep, or sitting outside. The more ceiling fans you install, the better—you'll save more on your energy bill by having several fans.
Convenient Lighting
Many ceiling fan models have lights built into them. Lighting adds function but also contributes to the ambience of a room. Illumination can be in the form of layered lighting to enhance the room's environment. Fans can have built-in lights, but if you have a working fan at home and would like to upgrade it, there are fan light kits on the market. Either way, the lighting benefits are just the same.
Year-Round Comfort
A ceiling fan is not just a summertime convenience. Although a draft is highly effective at making a room feel cooler, a fan's design also enables it to circulate warm air during the winter. Just reverse the direction of the blades to clockwise, and warm air from the ceiling will be drawn down to where your family needs it. Unlike when the blades turn counterclockwise, there won't be a draft.
How to Maximize the Benefits of a Ceiling Fan
Purchase a ceiling fan with a reversible motor to easily see year-round comfort. If you're looking for a greater level of energy efficiency, go for an ENERGY STAR rated fan. Design changes don't always warrant replacing the fan; if you want a change or to complement a new coat of paint, for example, use interchangeable blade sets. Similarly, there are lighting kits that allow you to complement the fixtures and appliances you already have.
Consult Our Los Angeles Electrician Today
Express Electrical Services is the #1 company for electrical repairs, installation, and remodeling in Southern California. We're also the best electrician in the region to trust whether you require a completely new ceiling fan installation, mounting, and electrical connection, or need it replaced or repaired. Serving Los Angeles, Orange County, and Riverside County, our technicians can be reached 24/7 by phone or by requesting service here on our website.
Share This Post!