Your Room-by-Room Guide to Home Wiring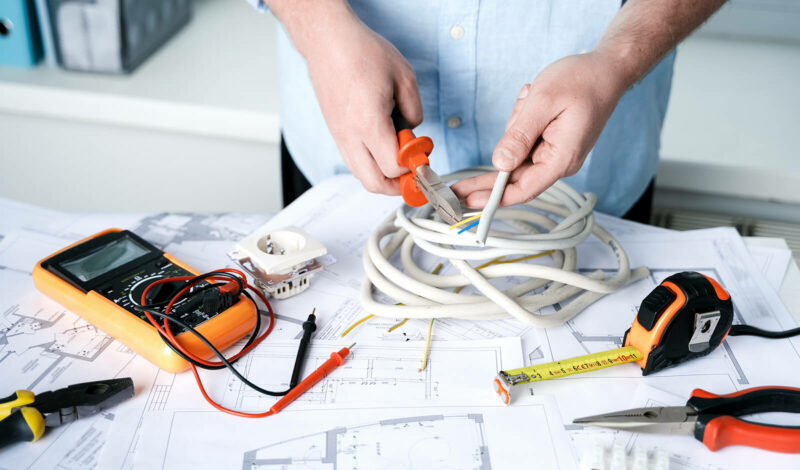 Do you know how many watts a standard kitchen needs? What about your bathroom? If you do, great! But if you need to know this information before your next home remodel, read our room-by-room guide to home wiring.
All wiring and electrical work must comply with the National Electrical Code (NEC) and any local codes in your municipality. And since the NEC is updated every three years, electrical installations in any room must meet the latest requirements. These codes don't only apply to electricians; you don't need to be a professional to understand them, but you do need to know what's required for each room.
Home Wiring for Bathrooms
The requirements for bathrooms are the most stringent due to the presence of water. That's why every receptacle must have a ground-fault circuit interrupter (GFCI), which cuts the power when a ground fault, such as contact between an electrical line and water, is detected. Also, each outlet receptacle must be served by a 20-amp circuit. The circuit can supply the entire room if there are no heaters.
If a heater is installed, a 20-amp circuit must serve the receptacles and the lighting must be on a separate 15- or 20-amp circuit. But if you have a vent fan with a built-in heater, it must have a dedicated 20-amp circuit to connect to. Another requirement is for at least one 120-volt receptacle, placed within 3 feet of the edge of every sink basin, while a single receptacle can be placed between dual sinks. And any light fixture in a shower or bath must be rated for damp locations; those exposed to shower spray must have a wet location rating.
Wiring a Kitchen
Consuming the most electricity of any room, the kitchen is subject to very specific requirements. Newly installed kitchens often require seven or more circuits, including at least two 20-amp, 120-volt circuits for small, portable countertop appliances. You must also have a dedicated 120/240-volt circuit for an electric range or oven and dedicated 120-volt circuits each for the dishwasher and garbage disposal. The appliance's electrical load determines whether it should have a 15- or 20-amp circuit (dishwashers also require GFCI protection).
You'll also need a 120-volt, 20-amp circuit for the refrigerator and one for the microwave. The latest codes require GFCI protection for any receptacle within 6 feet of the sink. There should be no more than 4 feet of space between countertop receptacles. And to add to the complexity, a separate circuit of at least 15-amps must serve your kitchen lighting.
Wiring for Bedrooms, Dining Rooms, and Living Rooms
When planning your home wiring for a bedroom, dining room, or living room, a standard 120-volt, 15- or 20-amp circuit will do, and can serve more than a single room. A wall switch for a ceiling or wall light (or receptacle that serves a lamp) must be located close to the entry door so you can turn it on when entering. Pull chains are forbidden for ceiling fixtures. Wall receptacles must be placed no more than 12 feet apart, and walls more than 2 feet wide must have at least one receptacle.
In a dining room, a separate 20-amp circuit is usually required for a microwave. Such is the case for a window air conditioner or entertainment center. These are higher power systems found in living spaces, so always need their own dedicated circuit.
How to Wire Stairways and Hallways
To minimize falling hazards, stairways must be equipped with three-way switches at the top and bottom of each flight. This ensures the lights can be turned on and off whenever someone uses the stairs. Stairs that turn at a landing typically require additional lighting fixtures. Hallways greater than 10 feet long must have a general-purpose outlet, and three-way switches for a ceiling light must be placed at each end. A four-way switch is needed for hallways with additional doors, such as those serving one or more bedrooms.
Wiring for Closets
A light fixture with an incandescent light bulb must have a globe or other cover, to protect against heat and fire. It cannot be placed within 1 foot of clothing storage or 6 inches from a recessed fixture. Any LED fixture must adhere to these rules as well, while a compact fluorescent fixture can be placed within 6 inches of storage. Any surface-mounted fixture must be installed on the ceiling or wall directly above the entry door. A wall switch (not a pull chain) must be installed.
Laundry Rooms
One 20-amp circuit must be provided for receptacles that serve a clothes washer or gas dryer. An electric dryer must have a 30-amp, 240-volt circuit. This circuit must be wired with four conductors, while GFCI protection is required for all receptacles.
Electrical Wiring for a Garage
Newly constructed garages must now have at least one 120-volt, 20-amp circuit. It can only serve the garage but may power receptacles mounted on its exterior. One switch should be installed for lighting, preferably a three-way switch, and there must be at least one receptacle for each car space. Like many other areas, all garage receptacles must have GFCI protection.
Contact Express Electrical Services
We're trusted for wiring and re-wiring services in Los Angeles and Southern California. Our trained technicians are familiar with the latest NEC and local code requirements mentioned above, plus those pertaining to arc-fault circuit interrupters and tamper-resistant receptacles. If you need assistance with wiring for a particular room, or for a home construction or remodel, contact us at 323-727-7799.