What Does It Cost to Rewire a House in 2023?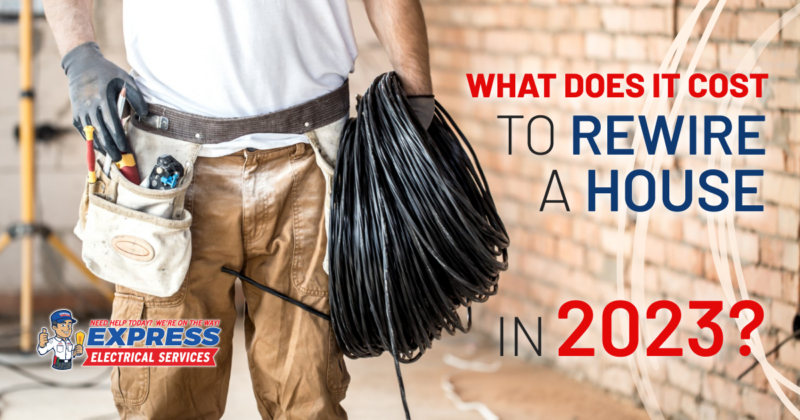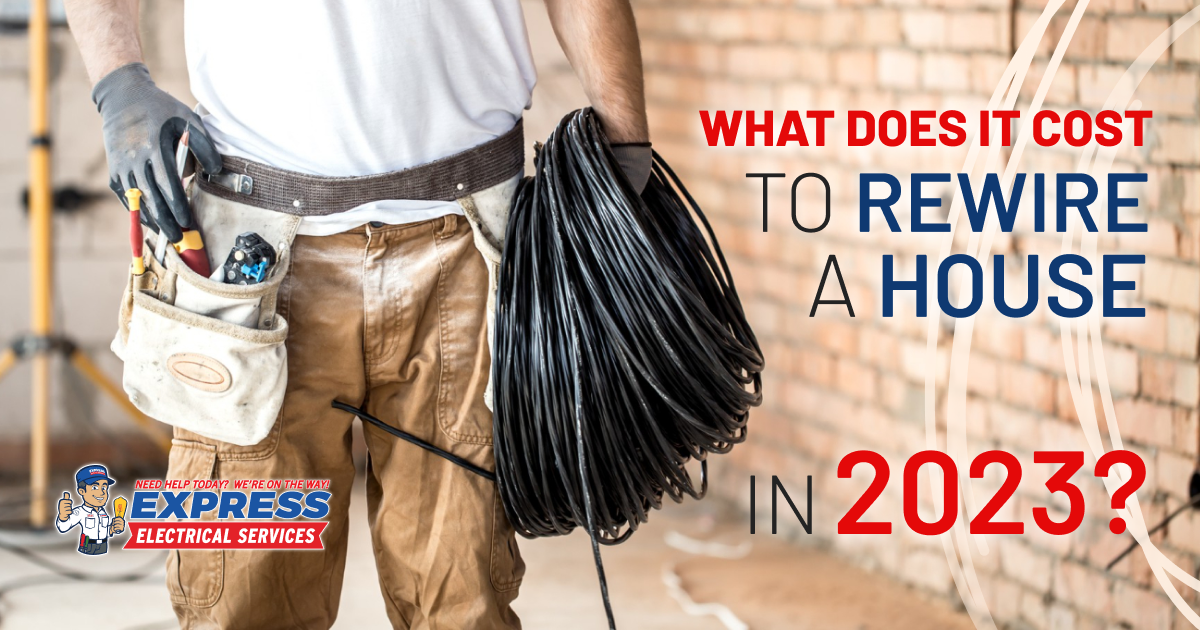 A home rewiring project can be a costly endeavor. Therefore, many homeowners put off such an important upgrade that can improve function, efficiency, and safety. Outdated wiring can violate electrical codes and increase the risk of an electrical fire. But the issue can be resolved. We'll look at the cost to rewire a house (as of 2023), as prices continue to rise.
What to Expect to Pay for Rewiring
Rewiring a house generally costs $2 to $4 per square foot.¹ But home size isn't the only factor to consider when calculating the total cost of a project (we'll look at various cost factors later). According to Forbes, the average cost of electrical wiring installation is $8,500. A small project can cost much less, even under $1,000, but a larger project can cost as much as $30,000.²
Average costs, based purely on the size of a home, are as follows:
1,000 Square Feet: $4,700

1,500 Square Feet: $7,400

2,000 Square Feet: $9,800

2,500 Square Feet: $12,300

3,000 Square Feet: $14,000¹
Generally, it costs less to rewire a smaller home. However, there are other considerations, such as the number of floors that need to be rewired. A two-story or more home will cost more to rewire because electricians will be working on multiple levels.
Factors That Affect the
Cost to Rewire a Home
Two homes of equal size won't necessarily cost the same to rewire. Numerous variables impact the total project cost, including:
Age of Your Home

: In older homes with lath-and-plaster walls, wiring is more difficult to access. Wall removal can add days to a project. Older properties also often have hidden issues that must be addressed. And contractors often recommend replacing plaster walls with drywall to ease the rewiring process and freshen up your home.

Project Scope

: The larger your home, the more outlets it must have. The more

outlets and switches

you have, the more complex a rewiring project is (expect to spend $100 to $185 per outlet¹

). You may also need three-prong,

GFCI

, and USB outlets. All the wiring may need to be replaced if it's in bad shape or your home was built when the knob and tube wiring was installed.

Labor

: In the electrical industry, labor costs $50 to $100 per hour, per person. You can hire more people to speed up the project. But that can cost you as some rewiring projects can take days to complete.¹

Material

: The cost of materials affects the

cost of rewiring a house

. Some of the most common materials used in the process include:

THHN/THWN Wire

: Thermoplastic, highly heat-resistant, nylon-coated (THHN) and thermoplastic, heat-resistant, "wet", and nylon-coated (THWN) wires average $0.84 per foot.²

NM Cable

: Non-metallic (NM) wires average $0.56 per foot.²

UF Cable

: Underground feeder (UF) cables suited for wet locations cost about $0.71 per foot.²

Coaxial Cable

: Still sometimes used for televisions and video equipment, coaxial cables cost around $0.25 to $0.35 per linear foot. They also require specialized outlets.¹

Low-Voltage Wire

: Installing wiring for thermostats, doorbells, and other low-voltage devices costs around $0.25 to $0.35 per foot.¹

Accessibility

: The more work required to reach wires through plaster, brick, and studs, the more you can expect to pay in labor. Also, consider the cost of building materials, such as drywall. Repairing walls can account for up to 30% of the project cost.¹

Permit

: The cost of pulling an electrical permit varies by location, but it's not one worth ignoring. You can face heavy fines and penalties if the work isn't permitted. A permit requires a home inspection, which is included in the permit price; in some places, this can be as high as $500.²

Preparation/Cleanup

: Preparing the worksite includes moving furniture and valuables and protecting them with coverings, among other activities. Prep work for an entire home can take days. The contractor will also clean up after the project. Preparation and cleanup can add up to $500 to the project cost.¹

New Service Panel

: If you have an unrenovated home built in the 1950s or earlier, chances are your electrical panel isn't up to code. Older 60-amp panels don't meet modern electrical requirements. A 100-amp panel can cost up to $2,000, and a 200-amp panel up to $2,500 to install.
Can I Save on Rewiring a House?
The cost of rewiring a house can be expensive, depending on its size. You can find opportunities to save by comparing quotes from at least three electricians. An inspection allows a professional to determine the work needed. If you don't need to rewire everything, that can save you money. Leaving walls intact can dramatically reduce costs. Ask the electrician if they can access wiring through a crawlspace or other area instead of breaking through walls. In any case, they should provide a detailed quote based on a thorough evaluation of the project's requirements.
Contact Express Electrical Services
Our trained and licensed electricians provide electrical rewiring in Los Angeles homes. No matter how big or small the project is, we'll determine the scope of the work and ensure your home is safe and efficient. To learn if you need an electrical upgrade, be informed of our specials and financing, and receive an estimate on the cost to rewire your house, call (888) 741-6404 today.
Sources:
Share This Post!