What are the Different Types of Light Switches?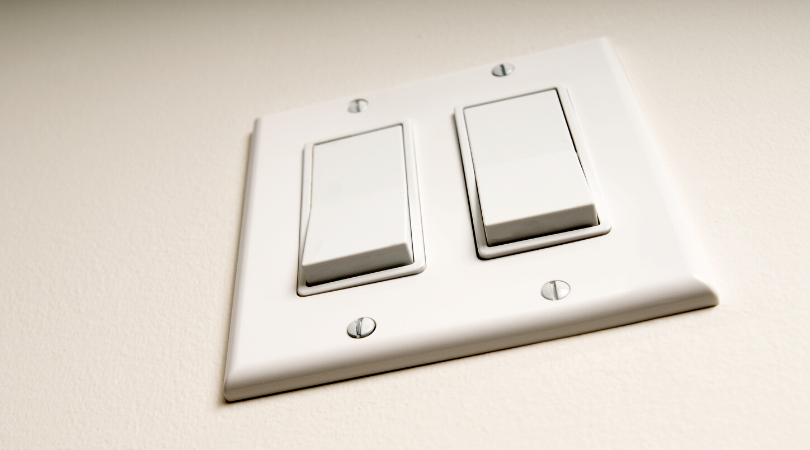 Technically speaking, switches are used for the purpose of opening and closing electrical circuits so that electricity is able to flow freely to lights and appliances. While traditional light switches are still being readily used in the homes, light switches have also had to evolve to better suit the needs of the modern home, and can now be equipped to operate more advanced appliances and electronics. 
You may not think that selecting the right light switch for a specific area of your home is all that important, but in reality, it can make all the difference. Understanding the different types of light switches, their functions, and the purpose they each serve is the first step in being able to properly choose the right light switch for each individual room of your home.  
5 Common Types of Light Switches
The old-school push-button light switches of the late 19th century were replaced by today's more recognizable toggle switches in 1917. Since then, light switches have gone through many incarnations and facelifts to offer a variety of design options and functionalities. Most homeowners don't give light switches much thought until it's time to do a renovation or update to their property. Here is a list of the most common types of light switches. 
Single Pole Light Switch
The most common type of light switch in most homes is the single pole light switch. These are best for general lighting usage and basic ON and OFF functions. These switches consist of one input contact and one output contact to switch a single circuit. 
Every single pole light switch comes equipped with two brass terminal screws that have black and white wires on the circuit. More modern single pole switches come outfitted with a green grounding screw that connects the circuit to the ground wire. This makes them safer than their older counterparts. It operates on a pretty simple principle: flipping the switch down turns the light off, switching it up, turns the lights on.  
Three-Way Light Switches
These light switches are able to control a series of lights from more than one location. They are typically installed in stairways and hallways, or at either side of a dining or living room area, so that you are able to turn on overhead lights from multiple places in the room. They are also commonly found in garages and basements for easy access to light in darker spaces. Three-way light switches have an extra terminal and do not come with defined ON/OFF markings on the toggle, since the on and off function varies depending on what part of the room the switch is being activated. 
Dimmer Light Switch
Dimmer switches have become increasingly popular since they allow homeowners to have the flexibility to control the amount of light in a room. Dimmer light switches are great because you can adjust the brightness in the room to attain a desired mood or atmosphere. 
Dimmer switches typically have a rounded knob or a level that can be raised or lowered to determine the level of lighting. There are also touch switches that make the light grow brighter the longer you hold your finger on the sensor pad. When installing dimmer switches throughout your home, be sure that you only pair them with dimmer-capable lighting fixtures, lightbulbs, and lamps. 
Push Button Light Switch
These are the second most common light switch that you can find in a home due to their simplicity. You can often find push button light switches in bathrooms, where they might be wired to operate an exhaust fan as well. Some push button switches will stay recessed until pressed again to switch the light or fan off. These light switches come in a wide variety of variations and design options. 
Smart Light Switches
Modernize your home by installing smart light switches throughout your property. These WiFi compatible switches allow you to control them by way of smartphone or tablet. They are highly customizable and allow homeowners to fully automate the lighting and atmosphere of each room in the home. You will need to make sure that you have light bulbs that are compatible to work with smart light switches and smart home lighting. 
Your smart switches can also be paired with an Amazon Alexa or a Google Home device to voice activate your lights to come on and off, or to accommodate pre-set lighting settings. Smart lighting acts as a security function, too. You can easily see when security lights come on around the exterior of your property and if there is an unwanted guest lurking about. Ask your electrician about installing a smart home lighting system to make your home safer and more automated. 
Contact a Licensed Electrician to Help Install Light Switches
Express Electrical is taking steps to follow CDC guidelines to the letter in regards to COVID-19. We are enacting added safety precautions to ensure our customers and their home environments are left undisturbed. Express Electrical considers our customers family and wants to give you the peace of mind you deserve in this trying time. 
Express Electrical Services champions homeowners that want to install more modern and functional light switches. We offer superior Los Angeles light switch installation as well as whole-home modern lighting options to add value to your property and bring it into the 21st Century. To find out more, call us today at (855) 976-9049.