Causes of Flickering Lights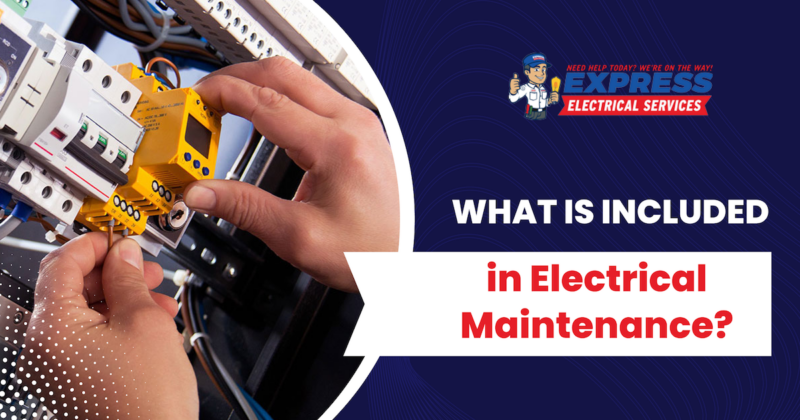 Electrical maintenance ensures your electrical system runs without problems. It can avoid electrical failures, fires, shocks, and electrocutions. Proper maintenance by a trained electrician can enable appliances, outlets, switches, wiring, surge protectors, generators, electrical panels, and other components to last longer. 
While maintenance is frequently advertised, consumers rarely have a glimpse into what it includes. We'll change that with a detailed look into electrical maintenance.
A Complete Inspection
Using their understanding of the National Electric Code and local regulations, electricians will inspect and test the performance of major electrical components. They'll look at the integrity and stability of outlets, surge protectors, and lights. If any bulbs have burnt out, the technician will replace them. They'll check that all wiring is intact and properly connected. If needed, repairs will be made on the spot as damaged wiring can spark, overheat, and cause a fire.
The electrical technician typically arrives with blueprints and wiring and equipment diagrams to guide their inspection. Voltage, amp, and ohm meters help them test the integrity of circuits. They can use additional tools to analyze the system to isolate potential problems. In addition to breaker panels, outlets, and connections, they'll also check the performance of any electromechanical devices and systems in your home or business.
Preventative Maintenance
Electrical maintenance focuses heavily on identifying potential problems in their early stages. It includes:
Testing individual electrical components such as circuit breakers, relays, and backup generator batteries.

Testing techniques, such as thermal imaging, to check for wiring, connection, or equipment issues.

Inspecting, cleaning, and adjusting lighting components as needed and ensuring cables are undamaged and in secure locations

Checking standby generator components such as the automatic transfer switch and potential sources of oil or coolant leakage. Fuel, air filtration, and exhaust components are checked as well.

Examining HVAC electrical connections and parts, as these have a high electrical demand. An electrician may not fix an AC but can work with an HVAC technician.
During electrical maintenance, an electrician may also look for:
Damaged insulation

Worn breakers or fuses

Poor grounding

Dampness around electrical devices/components

Unsafe use of extension cords

Outdated components

Signs of circuit overloads
In general, the electrician will check that your electrical system complies with the guidelines of the Occupational Safety and Health Administration (OSHA) and the National Fire Protection Association (NFPA). In particular, they'll check the condition and performance of your system against NFPA 70E guidelines that pertain to electrical fire safety.
Electrical Maintenance Takes a Multi-Faceted Approach
Electrical maintenance focuses on prevention but there's also predictive maintenance in which a technician checks parts that are prone to breaking down. Failure finding maintenance involves looking for flaws and safety hazards, while corrective maintenance is when an electrician performs minor repairs. Time-based maintenance is another type that involves changing out replacement items, such as AC filters.
Starting with a full analysis enables an electrician to determine how to proceed with maintenance, set priorities, and find ways to prevent failures.
Contact Express Electrical Services
Our licensed electricians provide maintenance, inspections, and emergency repairs throughout Southern California. From re-wiring to electrical panel upgrades, to home automation and smoke detector installation and other home safety services, our team serves our clientele in many ways. To schedule electrical maintenance in any of our service areas, request a visit online or call 323-727-7799 today.