Can the California Electric Car Rebate Help Save on a Home EV Charger?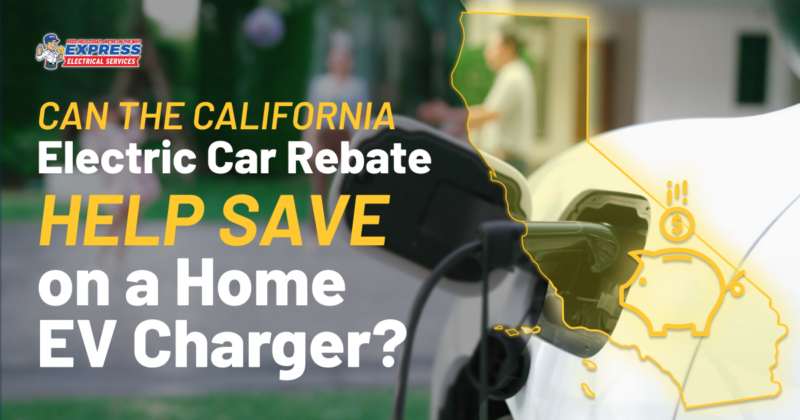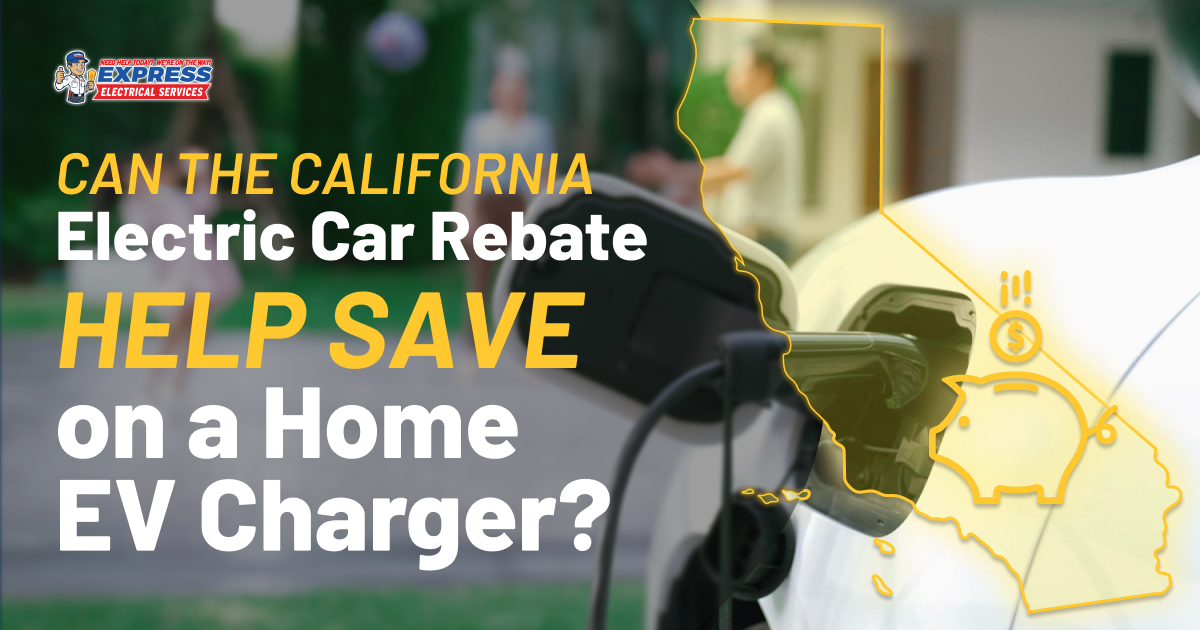 The California electric car rebate program benefits people who lease/purchase electric, plug-in hybrid, and fuel-cell vehicles. But can it help you save on an in-home electric vehicle (EV) charging station? The Clean Vehicle Rebate Project (CVRP) is intended to reduce the price of clean vehicle adoption. It's not directly targeted at EV chargers. However, you can use the money saved towards purchasing a 240-volt charging station, which can cost well over $1,000 plus labor and any required upgrades, such as having a Los Angeles electrician install a new electrical panel.¹
How Much Is the California Electric Car Rebate?
Most homeowners prioritize the cost of EV charger installation. It's an important factor when you purchase a new EV; after all, public charging stations can be expensive. However, the CVRP can qualify you for a rebate of $1,000 to $7,500 when you purchase or lease a new zero-emission vehicle.² That's more than enough to cover a home EV charger that can, depending on the project requirements, cost as much as $5,000. 
What Is the CVRP?
The CVRP is an initiative by the California Air Resources Board (CARB) and the California Environmental Protection Agency. The Center for Sustainable Energy administers it. Funded annually, it promotes the reduction of air pollutants released by gas-powered vehicles and protects public health, welfare, and ecological resources. In addition to passenger vehicles, the program extends to businesses and public entities through CVRP for Public Fleets.
How Do I Know I'm Eligible for a CVRP Rebate?
Rebates are provided on a first-come, first-serve basis. Over time, funds are becoming more limited. If you applied on or after September 6, 2023, you will be placed on a standby list. This doesn't guarantee you a rebate, but to be eligible, you must:
Be Based in California

: Applicants must live in California or be a business, nonprofit, or government entity based on the state (or have a California-based affiliate at the time the vehicle was purchased or leased).

Meet Income Requirements

: The income cap for higher-income consumers is $135,000 for single filers, $175,000 for head-of-household applicants, and $200,000 for joint filers. However, under some circumstances, joint filers can qualify at higher income levels for high-occupancy vehicles, while for low- and moderate-income consumers, rebate levels are scaled based on household size. For a household size of eight, combined household income must be less than $202,240 to qualify (a family of three must earn a total income of less than $99,440).³

Have Not Exceeded the Rebate Limit

: If you received a CVRP rebate before December 3, 2019, you can receive one more rebate if you haven't met the rebate limit. Applicants who've met their two-rebate limit are ineligible for an additional rebate. Eligible individuals and businesses with a fuel cell vehicle can apply for an additional rebate if they've met the limit, while rental and car share fleets are limited to 20 rebates per calendar year.

Purchase an Eligible Vehicle

: As of February 24, 2022, an SUV, minivan, or pickup in the "Large Vehicles" category must have a base Manufacturer Suggested Retail Price (MSRP) of $60,000 or less. Light-duty vehicles in the "Cars" category must have a base MSRP of $45,000 or less to qualify. A

list of eligible vehicles

is available on the rebate program website.

Submit the Appropriate Documents

: Applicants must submit a signed copy of the application form, vehicle lease or purchase agreement, and proof of temporary/permanent vehicle registration, California residency, or having a California-based business. Tax documentation with details on household size and income is also required.
If approved for a California electric car rebate, you can receive an amount that can be used to cover all or part of EV charger installation costs. Applicants placed on a rebate waitlist can be eligible for a rebate as long as funds are still available or additional funding is issued.
If eligible for an Increased Rebate (and apply on or after August 15, 2023), you'll receive a $2,000 CVRP EV Charge Card. It can be used at public EV charging stations.
Contact Express Electrical Services
If you want to install an EV charger in your home, our Los Angeles electricians can provide the necessary equipment and service. They install Level 2 EV chargers and provide maintenance and repair services. In addition, our licensed technicians can handle all planning and permitting requirements and provide re-wiring, home safety, and other electrical installation services as needed. To request assistance or learn more about the California electric car rebate program, call (323) 727-7799 today.
Sources:
Share This Post!