NESM: Working from Home Electrical Safety Tips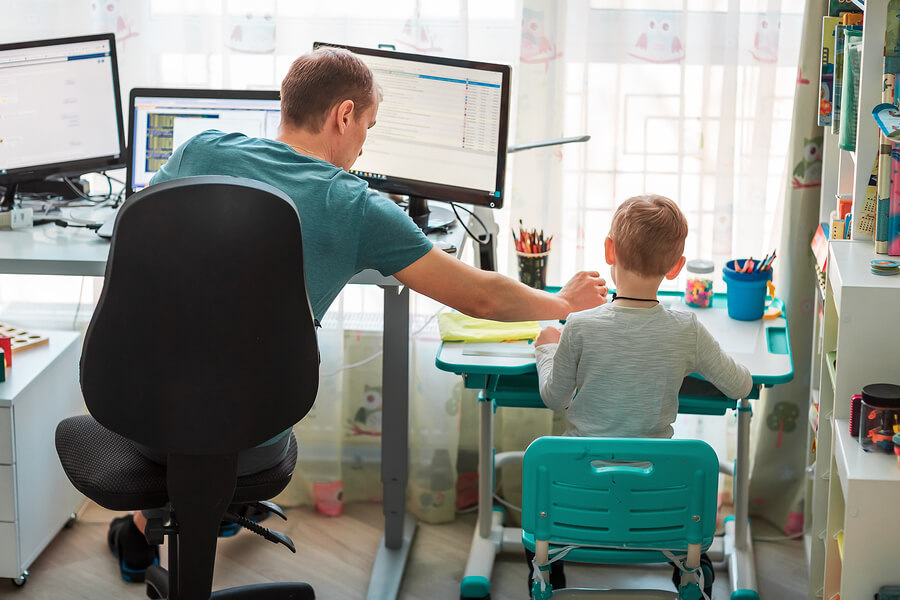 During the coronavirus pandemic, more people are working from home to protect themselves against COVID-19. So, in response to stay-at-home orders, they're in their kitchens, living rooms, or home offices more, where electrical hazards can occur. Electrical safety should never be ignored. According to the Electrical Safety Foundation International (ESFI), there are over 35,000 home fires every year, many caused by electrical mishaps, causing 1,130 injuries and 500 deaths.1
In addressing the latest trends, ESFI President Brett Brenner said,
"Transitioning from working in an office to now working from home may present new electrical safety concerns in your home that have not existed before."
The organization is raising awareness as May is National Electric Safety Month (NESM). It has also released a new infographic, "Electrical Safety While Working from Home", with these 10 safety tips for NESM 2020.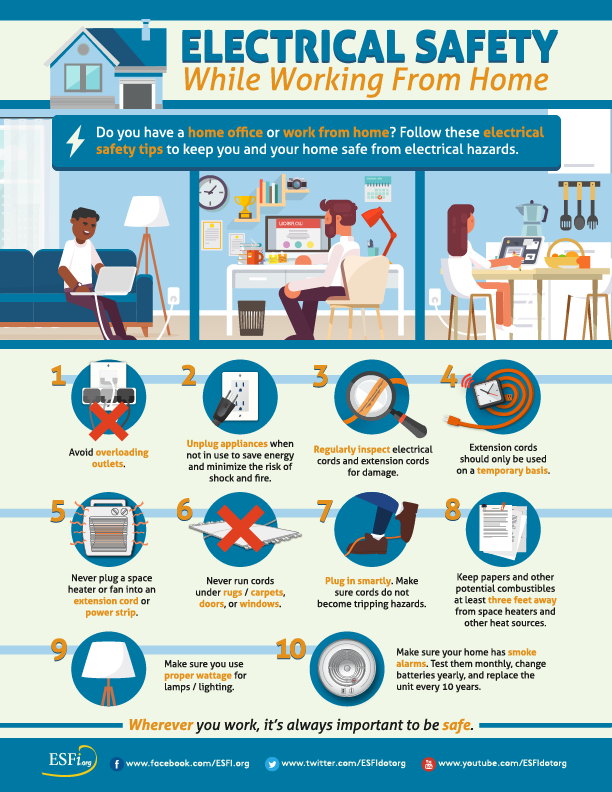 Do not overload outlets: Overloading an outlet draws more electricity than the circuit can handle. Never plug more than two appliances in at once or add more appliances via extension cords. An overload can be a serious shock
Unplug appliances when not using them: Unplugging appliances when not using them helps save energy. It also reduces the risk of electric shocks or fires. Appliances you should unplug include computers, televisions, DVD players, modems, cable TV boxes, and stereos.
Use extension cords temporarily: Never use extension cords as a permanent solution. They are prone to deteriorating over time with continuous use. Plug/unplug the cord over a short amount of time, and put it away after the need for it is over.
Never connect fans or space heaters using a power strip or extension cord: Plug them directly into an outlet. Otherwise, the amount of energy produced can cause the power strip or cord to overheat, short-circuit, and catch fire.
Check all electrical cords regularly for damage: Tears in insulation and exposed wires can cause sparks, fires, and shocks as well as electrocution. Using an appliance, in this case, can be extremely dangerous. Replace the damaged cord as soon as possible.
Make sure cords aren't trip hazards: A cord placed near a doorway or across a walkway is a trip hazard. A slip, trip, and fall can result and cause severe bruises, broken bones, and head, brain, and spinal injuries
Avoid running cords under carpets/rugs, doors, or windows: An electrical cord under a carpet can easily overheat, while a door or window sash can damage the cord, creating a safety hazard. Also, never run a cord under heavy furniture or over a beam.
Keep combustibles at least three feet from heat sources: Paper, wood, household chemicals, and other combustible materials (or anything that can produce combustible vapors) should be kept away to reduce the risk of fire.
Check the wattage of lights/lamps: Brightness, temperature, and color rendering index are common considerations, but always check the wattage to ensure the light is safe and doesn't cause an electrical overload.
Test your smoke alarms monthly: Holding the test button for a few seconds sounds the loud siren. This means the unit is working. If the alarm is weak or doesn't turn on, replace the batteries or the smoke detector.
Express Electrical Services Helps Improve Home Safety
Following these safety tips can avoid the most serious electrical hazards. If you experience electrical trouble, our Los Angeles electrician can perform any type of electrical installation or repair. We offer same-day service and are available 24/7 for emergencies. Our electricians are exercising COVID-19 protection practices by following social distancing, personal protection, and sanitizing guidelines. When possible, we provide troubleshooting and estimates via video conferencing. Call Express Electrical Services at 323-727-7799 or request service online for immediate help.
Share This Post!