How to Pick the Best Electrical Contractors in Los Angeles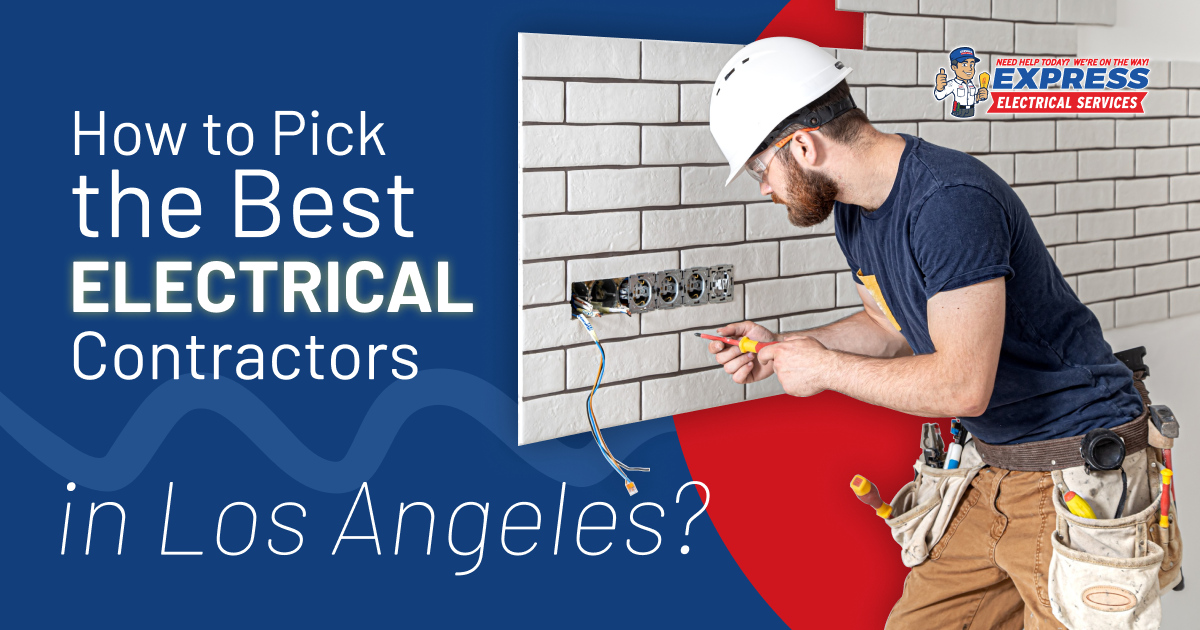 We're considered one of the best electrical services contractors in the region. But how do you find the best electrical contractor? It's a question homeowners often have. In an area with so many electricians, finding a skilled and trustworthy one can be difficult. Ideally, you want to hire a local company. We'll explain how to find good electrical contractors in Los Angeles and why working with a local business is important.
Finding the Right Electrician 
With any electrician, a few things can help determine if they're right for the job. First, know what type of electrical work you need. Then you can explain the situation as best you can and learn if the contractor can help. Here are some other tips:
Get Word of Mouth Referrals from Friends and Neighbors
If you ask a family member, friend, or neighbor, they'll likely recommend an electrician they trust. The contractor has already been tried and tested. They should provide you with the same quality of service. Consistency is a priority; most contractors focus on customer satisfaction no matter the size, scope, or difficulty of a job. And if you know a reliable tradesperson, they will likely recommend an equally reliable electrician.
Research with Industry and Trade Associations
The National Electrical Contractors Association (NECA) is one source you can use to find local electricians. An industry-focused association has high standards and expects its members to adhere to them. Members of organizations such as NECA must have specific qualifications and training. Various methods are employed to track a contractor's reputation for quality results and safety. Their listings are a great place to find the best local electrical contractors in Los Angeles.
Check the Contractor's Qualifications and Expertise
Don't hire a contractor unless they are licensed in their field. Electricians must be certified and licensed by the state of California. Proof of licensure should be on their website, or the contractor should openly share their information with you. Also, look for accreditation by the Better Business Bureau and evidence the contractor meets Occupational Safety and Health Administration (OSHA) requirements. 
Why Should I Hire a Local Electrical Contractor?
Working with a local contractor has benefits over entrusting a regional or national business to handle the job. Larger companies may have the expertise but often don't deliver benefits such as:
You Can Interview Them In Person
Meeting the contractor and interacting with them provides clues to how reliable and trustworthy they are. They should answer your questions accurately and in detail. It's easier to judge their dedication and work ethic in person than by chatting via email or talking over the phone.
Hiring Local Supports Small Businesses
Working with a local small business helps support the local economy. It also brings environmental benefits, as contractors don't have to travel or haul materials as far. Entrepreneurs and small business owners work hard to achieve their dreams, so they're likely to put everything they can into their service. They tend to be friendlier because a job well done can lead to a local referral; plus, you're both from the same town.
Pick a Contractor Who Knows the Local Codes
Technicians employed by a small business will provide custom, individualized services. Pricing will be set based on project specifics. Plus, they should be familiar with the National Electrical Code and its additional requirements in California, and Los Angeles building and electrical codes. They can pull the permit for the project and avoid errors that can cost you in repairs and fines later.
Better Guarantees
A national chain or the companies it subcontracts to is less familiar with the job site and can't guarantee the same results, speed, and accuracy as a local electrician. At Express Electrical Services, we guarantee our work will be completed to your satisfaction. We also guarantee a response within 60 minutes in case of an emergency, whether you're in range of our Los Angeles, Orange County, or Inland Empire location.
Hire Our Electrical Contractors in Los Angeles
Express Electrical Services has licensed electricians specializing in installation, remodeling, repairs, and home safety. Whether you need an outlet or light fixture repaired, your home re-wired, or whole-house surge protection, our team is ready to help. We're available 24/7 for emergencies and offer specials and financing to customers throughout our service areas. To learn more or request service, call (323) 727-7799 today.