Why Your Electrician Should Be Licensed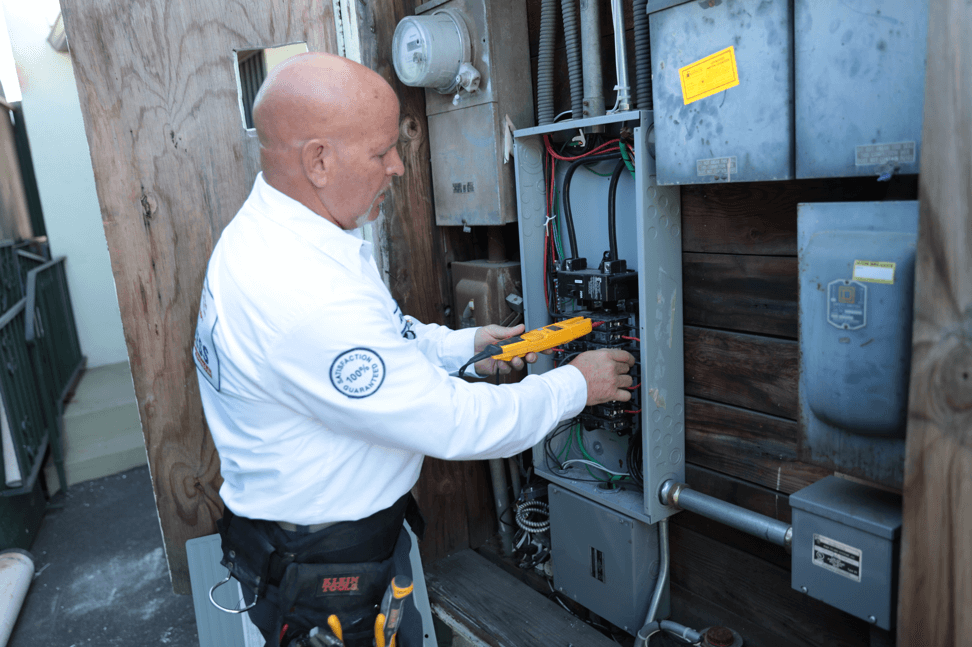 Electrical work should always be left to a professional. Whether you have flickering lights, tripping circuit breakers, or foul odors or other signs of faulty wires and electrical components, you must find not just someone experienced with electrical service, but someone who is also licensed. Any electrician near you with a license will have the proper training and qualification to get the job done properly and safely.
If your electrician is licensed, it means they:
Passed an exam that measures they're understanding of National Electric Code guidelines for installing electrical wiring and devices and operating equipment and tools used on the job.
Worked as an electrician apprentice, for 3 to 6 years, so they've accompanied a licensed electrician and have worked on many types of electrical projects in different environments and situations.
Can obtain a permit from the municipality that electrical work is done in; if there's a problem after permitted work, liability and homeowner's insurance is more likely to cover the damage.
A licensed electrician is also credible. You know they have the experience and, with a professional license to prove it, you know they're the best electrician for the job. If you're a cautious home or business owner, always check for professional licensure. It adds value to the electrician's services and helps them stand above the competition, which shows they're serious about their work.
An electrician with a license is also more likely to be trustworthy and recommended through a referral. Licensed professionals are more often the subject of word-of-mouth recommendations and endorsements by industry associates. But they're not only more qualified to perform electrical repairs. They can also join professional organizations, most of which require a professional license to join in the first place. Membership helps them learn about the industry and the latest trends.
Electrical Licensing in the U.S.
Just recognizing your electrician has a license isn't enough. There are different types of electrician licenses, which encompass different skills and knowledge. A technician can be certified or registered as an Electrical Contractor, Electrical Specialty Contractor, Alarm Contractor I, or Alarm Contractor II.
A contractor can receive state certification, which qualifies them to work anywhere in the state they obtained their license. Being registered means the electrician can legally work only in a specific region. All electrical professionals are expected to perform work within the scope of their license. Doing otherwise is against the law. It also puts you at risk of violating an insurance policy, in which case an insurer won't pay out should there be a claim related to illegal electrical work.
Hiring a licensed electrician can, therefore, protect your home, safety, and wallet. Having a licensed technician on hand maximizes home safety and peace of mind. An unlicensed electrician might have some experience, but they don't have much to lose by not following the most stringent safety practices. This is not the safest route for your family.
Call Our Los Angeles Electrician for Service You Can Trust
Since 1982, Express Electrical Services has been helping home and business owners throughout Southern California. Customers in Los Angeles, Orange County, and Riverside County depend on our licensed, experienced, and courteous technicians to address their needs for installation and electrical repairs. Our staff is state-certified and trained to handle any electrical problem. Committed to home safety and helping make homes as energy efficient as possible, we're available 24/7 for emergencies and respond to calls within 60-90 minutes.
Call us at 855-590-8785 or request service from a licensed electrician near you today!
Share This Post!