Certified Electricians Serving Ventura County & the Surrounding Areas for Over 25 Years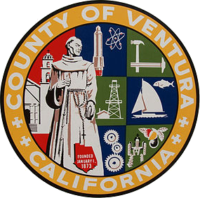 If you are searching for an electrician in Ventura County to help you with anything from quick electric repairs to a major remodeling project, Express Electrical Services is the number one electrical service provider to call!
At Express Electrical Services, we have a 24-hour electrician available around the clock who can reach your home in just 60-90* minutes. For both simple and larger projects, you can rely on our highly trained and certified electrical contractors to get the job done right. Whatever your reason for needing a Ventura County electrician, Express Electrical Services is here to help!
Since 1982, we've provided a wide range of high-quality electrical services in the Los Angeles metro area. We are proud to now work throughout Southern California to help clients enjoy safe, functional, and comfortable homes. You can call on us whether you live in Thousand Oaks, Ventura, Camarillo, Moorpark, Oxnard, or Simi Valley. Our team can also reach you in Lynn Ranch, Newbury Park, or Brandeis as well as Santa Paula, Ojai, Oak View, and other communities. You always have a Ventura electrician available to assist with your electrical repair, installation, or remodel.
We Are Ready to Serve You Any Time
Express Electrical Services is available 24 hours a day, 7 days a week. You can get in touch with us whenever you need a Ventura electrician. Our live operators are always on staff to take your call, while our technicians travel in fully stocked trucks so have the tools, parts, and equipment to troubleshoot your electrical problem and fix it. There's no job too big or too small for them to manage. Plus, we include a satisfaction guarantee with each project, meaning we have you covered no matter what.
Our Residential Electrical Services in Ventura County
At Express Electrical Services, we are happy to provide a wide range of residential electrical services to residents of Thousand Oaks, Camarillo, and other parts of Ventura County including:
Home Safety Services
Keeping residents of Ventura County safe in their homes is our utmost priority, and we are proud to offer home safety services such as:
Carbon monoxide detector installation – Carbon monoxide (CO) is invisible and has no odor or taste, yet this gas has claimed many lives in Ventura County. Fortunately, a CO detector can warn you to get out of harm's way before death or severe illness occur.
Security lighting – From deterring potential intruders to keeping away wildlife, spotlights, floodlights, and other exterior lighting can be fit with motion detectors, photocells, and other technologies to keep your home secure.
Smoke detector installation – Smoke alarms are required by law and save lives. We can hard wire your smoke detectors so you won't need batteries and your entire home will be protected. Like CO alarms, these should be installed in each bedroom and on every level of your home.
Whole house surge protection – Surges can impact your home from within or due to outside forces in Ventura County. With a whole house surge protector, the impacts of minor power fluctuations or surges due to lighting or downed power lines are minimized.
Contact Express Electrical Services Today!
At Express Electrical Services, our local Ventura electricians are proud to service Thousand Oaks, Simi Valley, Oxnard, and other communities throughout the county. We offer the most highly-rated and affordable service in the area as well as industry-leading financing options and frequent coupons and discounts. Best of all, we are available 24/7 and will always respond to your home in just 60-90* minutes. If you would like to learn more about how Express Electrical Services can help with any electrical service you may need, be sure to contact us today!
CITIES WE SERVE
REQUEST SERVICE