How Much Does EV Charger Installation Cost in 2023?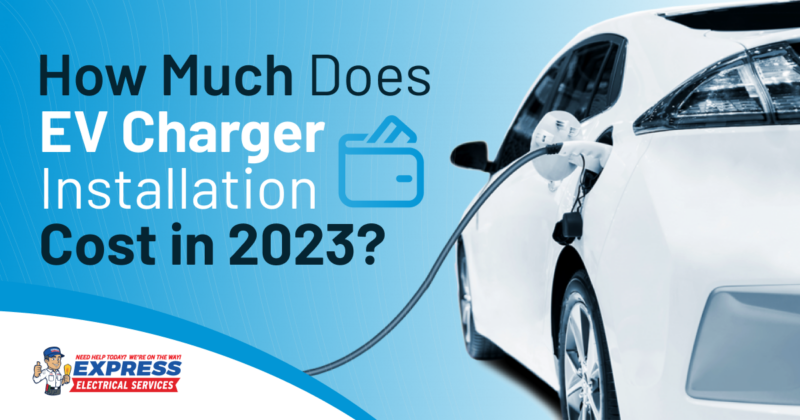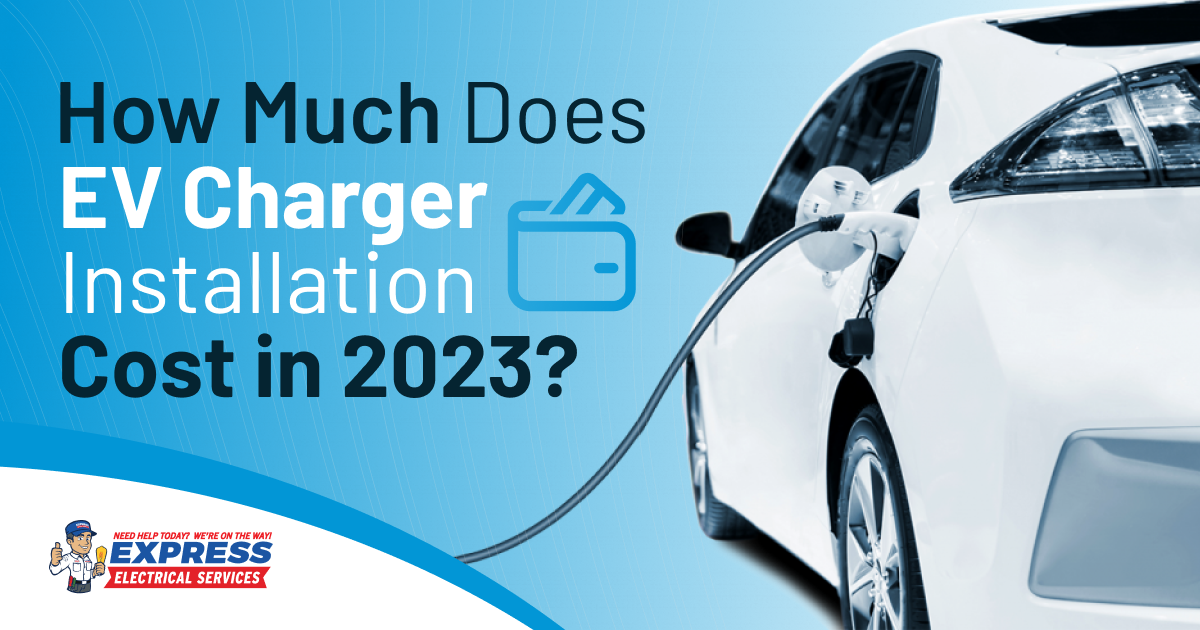 Southern California homeowners with electric vehicles (EVs) rely on Express Electrical Services for EV charger installation. But many people ask about the cost. Having a car charging station in your home is convenient, but it isn't cheap. The cost of installation is affected by the price of equipment, the cost of labor, and other factors.
A home EV charging station can cost $350 to $900. To install a Tesla charger, expect to spend up to $1,200 for the charging system (a Tesla Wall Connector costs extra).¹

For labor, you'll pay anywhere from $400 to $1,700 to install an electric vehicle charging station.¹
Therefore, the total cost of EV charger installation can range from $750 up to $2,600. However, it's not unheard of to spend as much as $5,000 on a project.¹
How Is the Cost of EV Charger Installation Determined?
Below, we'll look at the factors that help determine what installing an EV charger in your home costs: 
Type of Charging Station
There are three types of electric car charging stations. Homes typically have Level 1 or Level 2 systems, while Level 3 systems are generally reserved for commercial use. Here's a look at all three:
Level 1

: The most basic charging station usually costs under $180 and plugs into a standard 120-volt outlet. However, you'll only get 2 to 5 miles of range per hour of charging.¹

Level 2

: Most homeowners opt for a Level 2 EV charger, which can cost up to $2,000. It requires a 240-volt connection like a high-power appliance but can give you 10 to 40 miles of range per hour. It can charge most EVs in 4 to 10 hours.¹

Level 3

: A DC fast charger can require up to 600 volts but can yield up to 300 miles of range per hour of charging. However, it can cost up to $40,000 for equipment and requires a special permit to install.¹

Extensive home electrical upgrades would be required for a Level 3 system.
Installation Requirements
A basic EV charger installation may cost as little as $250 if a 240-volt circuit is connected to your electrical panel. However, it must be able to handle the load, or else you'll need a service panel upgrade. But a standard installation typically requires installing a new 240-volt outlet and circuit and running 50-amp wiring dedicated to the EV charging system. The job also requires mounting the charging station.
Nonetheless, some installations are more extensive. If you need a new panel, a 240-volt outlet, the station mounted, extensive wiring, or to run conduits around your home or to a detached garage, you could spend as much as $4,500.¹
Cost of Electrical Work
The fees charged can vary depending on your location and the electrician you hire. An electrician charges $50 to $130 per hour on average, but other cost factors to consider include:
Installing a 240-Volt Circuit/50-Amp Outlet

: $300 to $800.

200-Amp Electrical Panel Upgrade

: $1,800 to $2,500.

Wiring for an EV Charger

: $6 to $8 per foot.

Underground Trenching

: $4 to $12 per foot.

Remodeling a Garage

: $1,000 to $5,000.

Obtaining a Permit

: $50 to $200.¹
Other Considerations
There are considerations beyond initial EV charger installation costs. One is what it costs to charge your vehicle. Nationally, the average cost to charge an electric car is $0.03 to $0.04 per mile. It can cost $3 to $8 to fully charge your vehicle at home. On average, you can expect your electric bill to increase by $25 to $35 per month. By comparison, a full charge at a public EV charging station can cost up to $36.¹
Additional cost factors to consider include:
Tax Credits

: You may be eligible for a federal 30% tax credit to cover up to $1,000 of purchase and installation costs.¹

Rebates

: Utility companies often provide rebates of up to 50% on Level 2 home charging station purchase and installation costs (especially if your system is Wi-Fi enabled).¹

Charging Station Features

: Some Level 2 charging stations are hardwired; plug-in units are portable. If a station is Wi-Fi enabled, has a longer cable, is rated for outdoor use, or supports dual charging or power sharing, these features can also affect the cost.
The cost of EV charger installation varies depending on many factors. The type of charger, its features, home electrical requirements, and what your electrical company charges for labor are just a few of them. Therefore, it's important to consider your budget, the type of equipment you need, and what incentives are available when purchasing an electric vehicle charger.
Contact Express Electrical Services
We specialize in electric vehicle charger installation in Los Angeles and are a Tesla-certified EV charger installer. Our licensed technicians will assess your home and determine if an electrical panel upgrade, home rewiring, or electrical remodeling is required. In addition, we'll pull a permit to show the installation complies with the California Electrical Code. Financing options are available to make your project more affordable. To learn more or schedule EV charger installation, call (323) 727-7799 today.
Source: