The Role of an Electrician in Updating Your Los Angeles Smart Home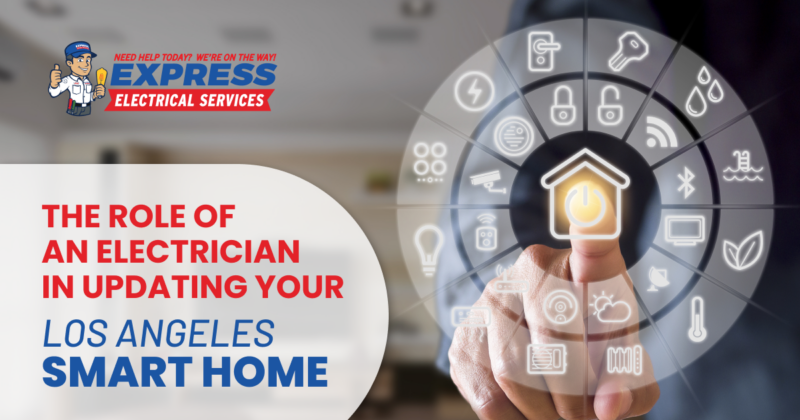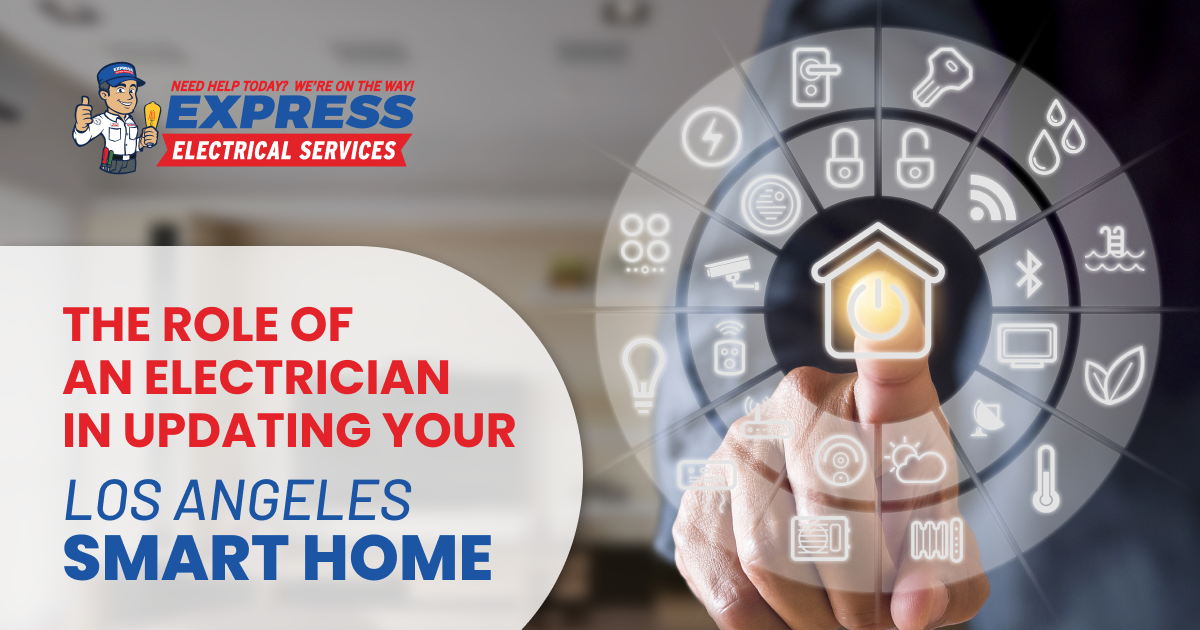 At Express Electrical Services, we proudly assist with home electrical automation in and around Los Angeles. Smart locks, lights, and thermostats are just a few technologies reshaping life at home. Numerous smart products are now readily available in the consumer market. They are improving convenience, security, and efficiency. But some have installation requirements that go beyond a typical DIYer's capabilities; to perfect your smart home, an electrician is often required.
What Is Home Automation and Smart Home Technology?
The two terms have become practically synonymous. Both refer to the automatic control of electronic devices and their connectivity to the internet. Connected devices can trigger one another or communicate via Wi-Fi, Bluetooth, or other protocol. Many can be controlled via an app, voice assistant, or electronic interface. Some also integrate sensors to monitor and react to changes in their surroundings.
Examples of home automation/smart home devices include:
Smart Locks and Security Systems

: Smart locks can lock automatically when you leave home and be unlocked using an app or temporary passcode. Video doorbells can be monitored remotely or they can send a notification if the camera detects motion or the doorbell is pressed. Also in this category are smart cameras, glass break sensors, and motion sensors.

Smart Lighting Systems

: One of the most widely adopted smart home technologies, smart lights can be adjusted without flicking a switch. They can also be customized to your schedule. Some are dimmable, can change color, or synchronize with music. Both interior and exterior

lighting systems

can be upgraded and automated.

Smart Thermostats

: Home automation allows us to control our heating and cooling systems remotely as well. A thermostat is no longer only a temperature control device. It can be set on a schedule and be adjusted remotely, as long as you have access to your smartphone. Aside from being convenient, this can increase HVAC efficiency too!
The advantages of these technologies include:
Increased Energy Efficiency

: A home automation system can turn off the heat or lights when you leave, or turn on the AC when you're close to your home. Therefore, it helps manage energy use based on your schedule so you waste less of it.

Improved Security

: Security cameras, video doorbells, and door and window sensors can alert you of a security issue. You don't need to get up to see who's there or be home at all for that matter.

Increased Convenience

: Devices can be synced to the time of day or your schedule. You can control them remotely using your smartphone or by voice command, without pressing a button or flicking a switch. Their usage can be monitored and tracked over time as well.
Why Do I Need a Smart Home Electrician?
Automating your home isn't a DIY project. Once you invest in smart devices, you need a skilled electrician to install them. Each device must be properly wired to your electrical system. Poor wiring or improper installation are significant safety issues. An electrician's work will comply with the latest codes and ensure each device operates and communicates as designed.
To be compatible with the latest equipment, your electrical system may need to be upgraded. This can involve re-wiring your home or updating your electrical panel. Only a qualified electrician can do these tasks. And, what happens if automation and smart home devices need to be repaired? A professional can help when something goes awry or you need advice on restoring the system after a power or internet outage.
Smart home systems are complex and once you start setting one up, you're likely to add onto it. An electrician can help integrate multiple automation and smart home devices. They can provide customized home automation solutions, factoring in variables such as the placement of smart devices and what technologies to use when selecting and wiring them. They'll help with the entire process, from planning to final installation.
Hire an Electrician to Set Up Your Smart Home in Los Angeles
A trained electrician has the knowledge and tools to customize and install home automation and smart home devices. At Express Electrical Services, our expertise in home electrical automation has enabled us to successfully update clients' homes throughout the Los Angeles metropolitan area. To learn how home automation can work for you, schedule a consultation with one of our skilled smart home electricians today. Call 323-727-7799 or request service on the web to get started.