How to Safely Use an Electric Plug-in Wall Heater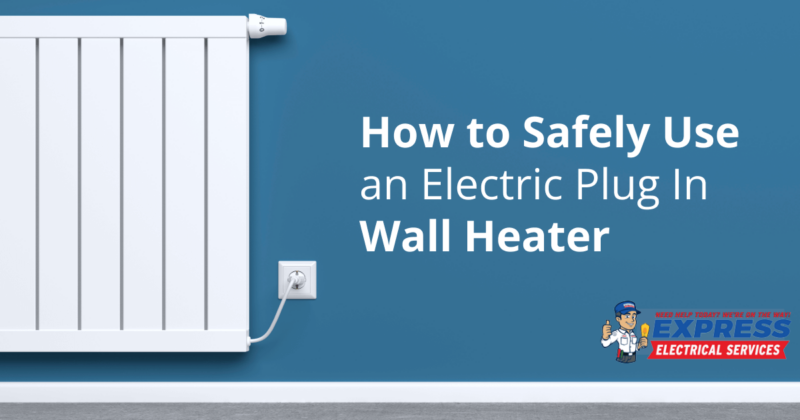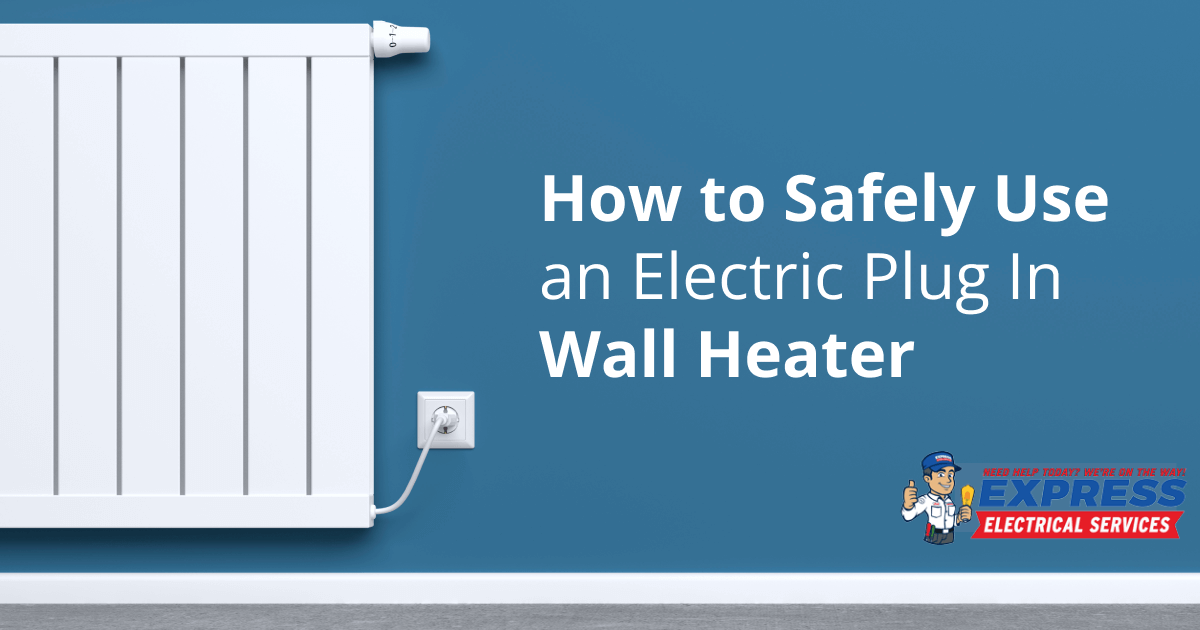 Electric plug-in wall heaters are commonly used in U.S. homes. These portable devices are convenient but can be dangerous if used improperly. The Consumer Product Safety Commission estimated, in 2017, that they contribute to around 1,100 home fires a year and cause most of the home heating-related fire deaths in the country. In one incident in January 2022, 19 people were killed and dozens injured when a space heater malfunctioned in an apartment building in The Bronx borough of New York City.
While plug-in heaters are getting safer due to better design, how you use one is the most influential factor. There are various types of electric heaters. Some are fan-forced, in which warm air is blown over the coils, while others use infrared light to create heat. Others have a ceramic heating element. Water or oil-filled units are available as well.
There are also safety features to look for, including:
Tip-over switches that turn the unit off when it's not upright.
Automatic shut off that kicks in if the unit overheats.
Thermostats that monitor room temperature and turn the unit off.
A plastic cover that prevents burns.
9 Expert Tips on Safe Plug-in Wall Heater Usage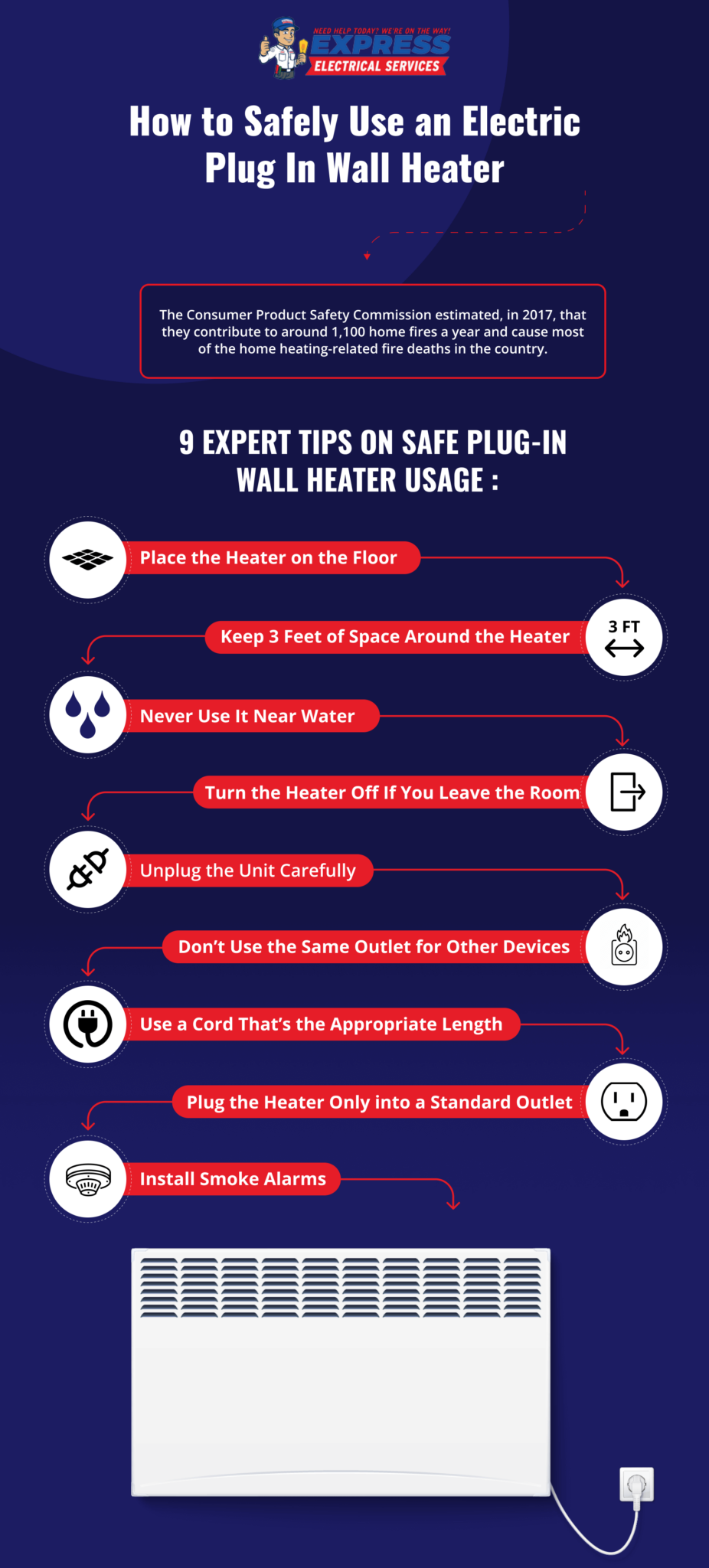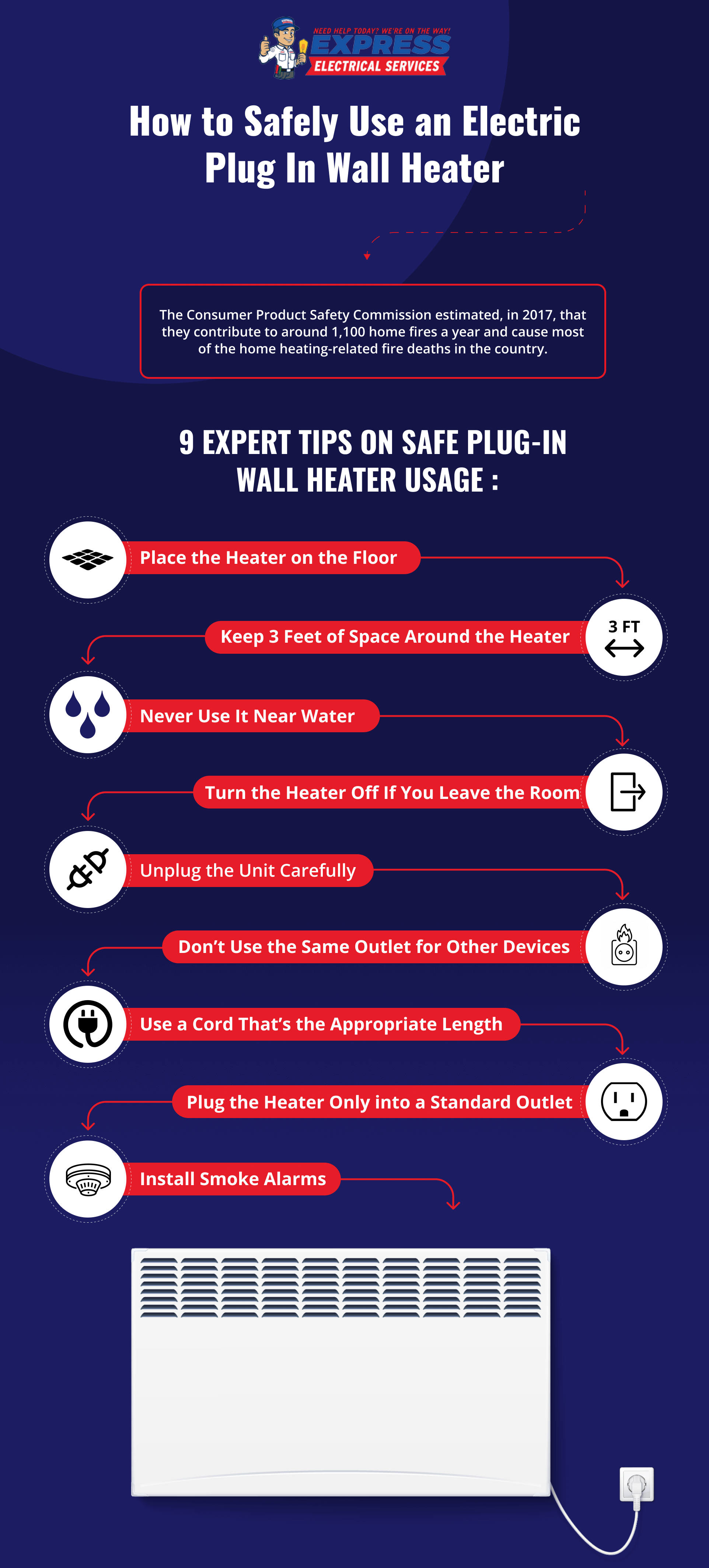 1. Place the Heater on the Floor
When it's cold, don't move the heater closer to you. Always keep it on a smooth, flat surface. Never put the unit on a shelf, stool, or workbench where it can fall from. And don't leave it on a carpet, rug, or bed, where flammable fabrics can ignite.
2. Keep 3 Feet of Space Around the Heater
The unit must be at least 3 feet away from furniture, curtains, bedding, and other combustible materials. Also, create a 3-foot kid- and pet-free zone around it. A space heater should also never be placed in a child's room. Don't use it near matches, paint, or gas cans either.
3. Never Use It Near Water
Electricity and water are a deadly combination; so is using an electric plug-in wall heater in a kitchen, bathroom, or other wet location.
4. Turn the Heater Off If You Leave the Room
An unattended space heater is a fire hazard. You never know when a drape fabric will drift against it or a child or pet accidentally knocks it over. The heater is a shock hazard as well. And also, never leave it on while you sleep.
5. Unplug the Unit Carefully
Pull the plug straight out of the outlet and regularly check the cord for damage. If the cord is frayed or damaged, don't use it.
6. Don't Use the Same Outlet for Other Devices
Plugging in another electrical device or extension cord into the same outlet as the heater can cause overheating, which can damage your electrical system and cause a fire.
7. Use a Cord That's the Appropriate Length
A space heater should come with a cord that's at least 6 feet long. You want to make sure there's enough slack to position the unit anywhere in the room.
8. Plug the Heater Only into a Standard Outlet
Don't plug it into an extension cord, surge protector, plug timer, or GFCI outlet. This can cause an overload or add resistance that lets heat build up (potentially causing a fire or internal damage).
9. Install Smoke Alarms
These should be placed on every floor of your home and in each bedroom. Test your smoke detectors monthly to ensure your safety.
In addition, it's important the plug-in wall heater you use is certified by an independent testing organization. If it is, you'll see a UL mark, ETL label, or certification from CSA International. Using a model that's proven to be safe is the first step to protecting your family.
Suspect an Electrical Problem? Call Today
Express Electrical Services provides electrical repair, re-wiring, and installation of smoke detectors and whole-house surge protection in Southern California. We're known for same-day service and our 100% satisfaction guarantee. You can trust our certified, licensed electricians to keep your home functional and safe. For same-day electrical services or help safely using an electric plug-in heater, call 323-727-7799 today.