How to Clean Light Fixtures: Dos and Don'ts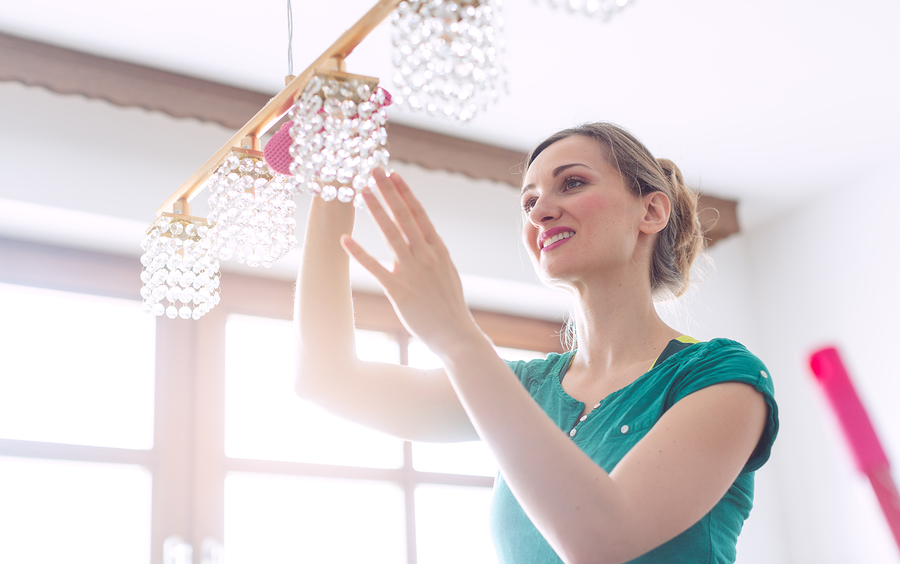 Light fixtures can brighten up a room and help furnish your home. They can also attract bugs, cobwebs, dust, dirt, and grime that can diminish output and even reduce their lifespan. But you can maintain light flow with a few simple tasks. While cleaning a light fixture the wrong way risks breaking it, getting burned from a hot bulb, or damaging the wiring and getting an electrical shock, using proper techniques can avoid problems and maintain the shine.
Do Gather the Right Cleaning Supplies
Important items include a secure step ladder, extendable electrostatic duster (also works for ceiling fan blades), and microfiber cloths that don't leave behind any lint. Gather a lint roller (or a vacuum with an upholstery attachment for fabric lampshades) and a dishpan. As a cleaner, you can use mild dish soap, glass cleaner, or a homemade cleaning solution of 3 parts water to 1 part white vinegar.
Don't Rush
If you are in a hurry, then you are unlikely to clean lights, lamps, and bulbs properly, or safely. Taking your time gives you a chance to be thorough. It also reduces the risk of accidents at home and results in a cleaning that allows you to enjoy the true beauty and potential of your lighting.
How to Clean Standard Light Fixtures
When you clean your fixtures, it's important to know the type of fixture you are working with. If you're cleaning basic fixtures:
Do turn off the lights and wait 30 minutes for them to cool.
Do gently wipe or sweep bulbs, covers, and fixtures to remove dust or debris.
Do mix warm water with mild soap in a dish pan or sink.
Do remove light covers or globes before cleaning them.
Do soak them in soapy water for up to 10 minutes.
Do make sure all parts are dry before replacing them.
How to Clean Recessed Lighting
For recessed lights, remove the covers and soak them briefly. After soaking, rinse them off with clean water. Use a damp cloth to wipe down bulbs and fixtures. Components can be replaced once they dry off. The same method can be used for flush-mounted ceiling lights.
How to Clean Chandeliers
A chandelier offers an exceptional level of elegance, but its intricacy creates cleaning challenges. To properly clean one:
Do take note or photographs of parts you remove.
Do be extra gentle with etched or frosted glass
Do use the same cleaning items/steps as you would for plain glass.
However, do not soak polychrome glass or any glass with decals or painted-on designs. Instead, soak cotton swabs in diluted water and gently wipe around decals and painted areas. Use a damp cloth to gently wipe other surfaces.
Final Steps to Brighten Any Room
Do follow care when cleaning lamp shades. A damp cloth or gentle cleaner works for glass shades, while you can vacuum most fabric ones; for beaded shades, vacuum to remove dust and use a damp cloth to clean them thoroughly. It is best to wipe a paper shade with a dry cloth. Cleaning bulbs and shades will keep your rooms bright, and don't forget to wipe down lamp bases to make sure your indoor air is dust-free and breathable.
Contact Express Electrical Services
If you notice your light fixtures not working properly (the lights are flickering, burning out easily, make odd noises, or emit strange odors), contact Express Electrical Services. We can address any lighting or wiring problem and are open during the coronavirus pandemic (see our COVID-19 update for details on how we're protecting our customers and technicians). Call 323-727-7799 for emergency service, 24/7, or to schedule an appointment.
Share This Post!