Top Holiday Decorating Safety Tips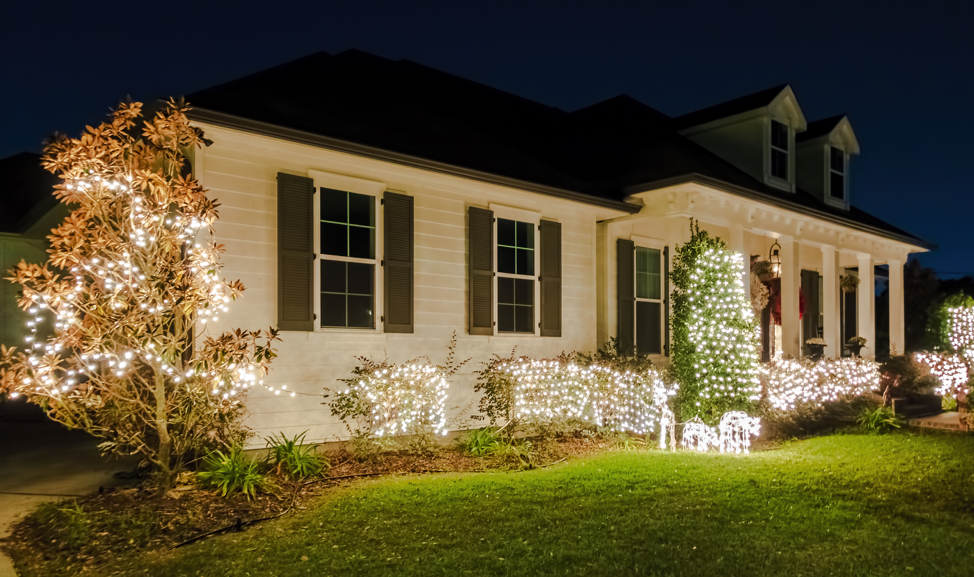 Decorating your home for the holidays can make it feel festive, but also put your safety at risk. Holiday lights can be a fire hazard if not installed properly. Trees and wreaths are sometimes made of flammable materials that can exacerbate the problem. Much of the danger comes from elements of your decorations and home that are electrical, which may be improperly installed or damaged.
To avoid unnecessary trouble this holiday season, or even major damage or a family tragedy, follow these Christmas decorating tips:
Care with Lights
When working with Christmas lights, make sure to:
Identify any frayed or cracked wires, or broken bulbs, and replace any damaged sections.
Check lights for Underwriters Laboratory approval, noted on the tag.
If the tag is red, the lights can be used indoors/outdoors.
If the tag is green, only use the lights indoors.
For exterior decorations, use only extension cords designed for outdoor use.
Don't plug more than three sets of standard lights into one extension cord.
Keep ladders and decorations clear of power lines when working outside.
Clip strung lights into place rather than hammer tacks or nails into a cord.
Plug lights and decorations into ground fault circuit interrupters.
Connect holiday lights to a timer, and turn them off before bed or extended periods away from home.
Your indoor lights may be warm and dry, but that doesn't eliminate the danger. They should not be in contact with furniture, drapes, or carpeting, which can catch fire if they get hot enough. Also, cords are a trip hazard, so only put them in low-traffic zones or where they won't be crushed, kinked, or twisted.
Practice Safe Home Decorating
Electronic candles are effective and safe decorations. They also don't catch fire as easily as traditional candles, which cause over half of holiday decoration fires according to the National Fire Prevention Association. If you use real candles, make sure they're not near Christmas trees, edges, or curtains. Blow them out if you are leaving the room or house for a while.
Colorful, sparkling decorations look very inviting to babies and toddlers, who will pull, grab, or put anything in their mouths. Any candles, decorations, or lights should be placed high up, so they are out of reach and your children won't be injured, there won't be potentially sharp glass on the floor, or an electrical fire.
You can also lower the risk by:
Hydrating your Christmas tree to reduce flammability.
Keeping decorations away from heat sources, including fireplace stockings.
Not using more than two ornaments per stand that plug in bulb receptacles.
Ask Your Los Angeles Electrician for Help
There's nothing wrong with requesting a visit by a professional Los Angeles electrician. They can determine if a certain set of lights or a connection is safe. Electrical inspections can maximize your safety and peace of mind, so ask for one if your home hasn't been inspected in a while. Express Electrical Services works with customers across Southern California. If you live in Los Angeles County, Orange County, Riverside County, or any of the other surrounding areas, you can call for same-day service and certified electricians who are available 24/7 for emergencies.
When it comes to electricity, always have safety in mind. Powerful voltages run through your home and, if things don't work right, you may be at risk of an electrical shock, burn, or a home fire. Call us at (888) 741-6404 or feel free to request service directly on our website.
Share This Post!