National Electrical Safety Month 2020: Smart Home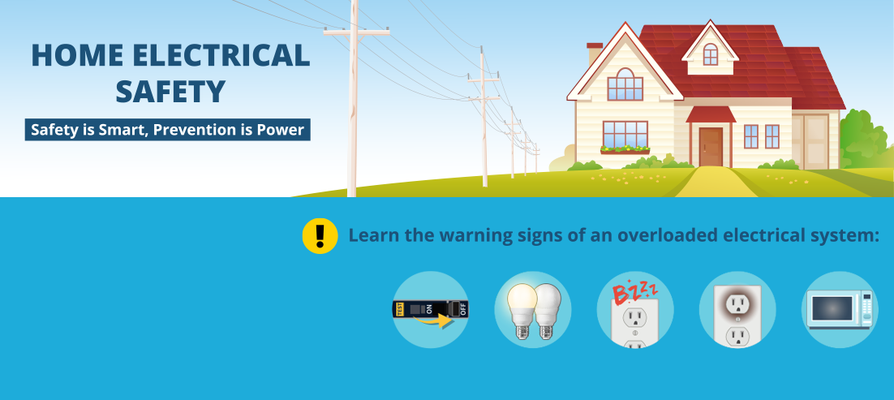 According to The Electrical Safety Foundation International (ESFI), home electrical hazards like faulty wiring and the misuse of extension cords, result in $1.47 billion in property damage each year. Annually, home electrical fires account for over 500 deaths and nearly 1,500 injuries. With May being the National Electrical Safety Month (NESM), now is an excellent time to bring your home up to code, inspect outlets, and go down a list of safety tips to ensure your home's electrical system is in great working condition.
The continued safety of your home and family is a top priority, especially as more homes become smart homes. The National Electrical Safety Month campaign was designed to promote electrical safety awareness both at home and at the office. Being proactive and pinpointing potential electrical hazards before they develop into something more serious can prevent injuries and save you money in the long run. They've created an overview of home electrical safety tips to consider for the month of May so you can rest easy knowing you're putting added focus towards having a safe and smart home. 
Home Safety Devices
Arc-Fault Circuit Interrupters (AFCI):

According to the calculations of The Consumer Product Safety Commission (

CPSP

), it is estimated that 50% of home electrical fires can be prevented by adequate AFCI protection being installed. AFCIs protect your home from electrical fires and malfunctions. 
Surge Protective Devices (SPD):

Almost everyone has heard of surge protectors before. When your outlets, wiring, and

circuit breakers

experience an electrical surge it can negatively impact the lifespan of your entire electrical system, not to mention your appliances and electronics. Protect your home and ask your electrician about whole-house

surge protection installation

. 
Ground-Fault Circuit Interrupters (GFCI):

GFCIs are typically installed in areas where water and electricity coexist like bathrooms and kitchens. These outlets are equipped with added protection to prevent

injuries

and electrical shock. 
Tamper Resistant Receptacles (TRR):

As the name suggests, TRRs are tamper-resistant. TRRs are equipped with an internal mechanism that acts as a killswitch to shut the outlet off if any foreign objects are carelessly inserted into the outlet. 
Renovate Your Home to Code 2020 
Home renovations are always an exciting time, but there are certain requirements and standards you need to meet to bring your home up to code as outlined by the 2020 National Electrical Code. Here is a brief overview of the new 2020 requirements:
Bathrooms & Garages:

Ground-Fault Circuit Interrupters (GFCI) protection

Basements, Crawl Spaces, Hallways & Closets:

You'll need to install AFCI protection in finished basements and GFCI protection in places like crawl spaces and attics.

Bedrooms & Common Areas (Living rooms, dens, etc.):

Arc-Fault Circuit Interrupters (AFCI) protection. 

Kitchens & Laundry Rooms:

Kitchens and laundry areas need additional protections installed due to the high-efficiency appliances and presence of water in these spaces. For this, you'll have to install both AFCI and GFCI protection
Extension Cord Safety
Extension cords can come in handy when you can't quite reach an outlet. But extension cords come with their own set of fire hazards and are not a long term solution for providing power to appliances and lighting. No matter the quality of the extension cord, according to the ESFI, roughly 3,300 house fires are caused by extension cords overheating or being improperly used. 
Knowing how to safely use extension cords is important. Extension cords can deteriorate over time and pose a serious threat to your home or workplace. The Electrical Safety Foundation International (ESFI) offers several tips that we will dive into this May to keep you safe from electrical shock or fires. 
Electrical Safety While Working From Home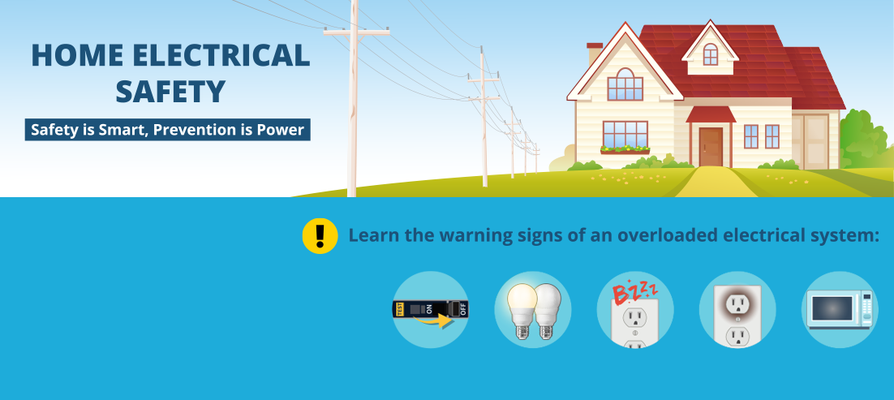 Due to the current environment surrounding the coronavirus, working from home has become the 'new normal' for most Americans. Whether you are attempting to set up your home office, or already have an office in your home, here are a couple of the ESFI electrical safety tips you'll want to follow to prevent electrical fires. We will dive deeper into this safety topic in May.
Don't overload outlets or overburden power strips. 

Unplugging appliances like monitors and printers when they aren't in use can save you money on your electricity bill and minimize the risk of fire or electrical shock. 

Regularly check electrical cords for any bent, damaged or frayed cords. 

Only temporarily use extension cords in your home office. 
Whether you're working in your home office or relaxing in your living room, safety comes first. By following these simple, common sense electrical safety tips, you can worry less and focus on the more important things in life… family, work, and relaxation. 
Upgrade Your Home's Electrical System With Express Electrical 
Express Electrical is taking steps to follow CDC guidelines to the letter in regards to COVID-19. We are enacting added safety precautions to ensure our customers and their home environments are left undisturbed. Express Electrical considers our customers family and wants to give you the peace of mind you deserve in this trying time. 
Our certified Los Angeles electricians are available 24/7 and will respond to any call in 60-90 minutes. With 36 years of experience serving all of Southern California, we offer a quality guarantee on every electrical repair and energy-efficient lighting installation, allowing you to rest easy knowing your project will be completed in a timely and professional manner.
Express Electrical Services champions businesses and homeowners that want to adopt energy-efficient techniques. We offer superior Los Angeles Electrical Inspections that can help you save electricity and have a more efficient electrical system. We can help you save money and give back to your planet. To find out more, call us today. 323.727.7799