High-Tech Smart Home Security Upgrades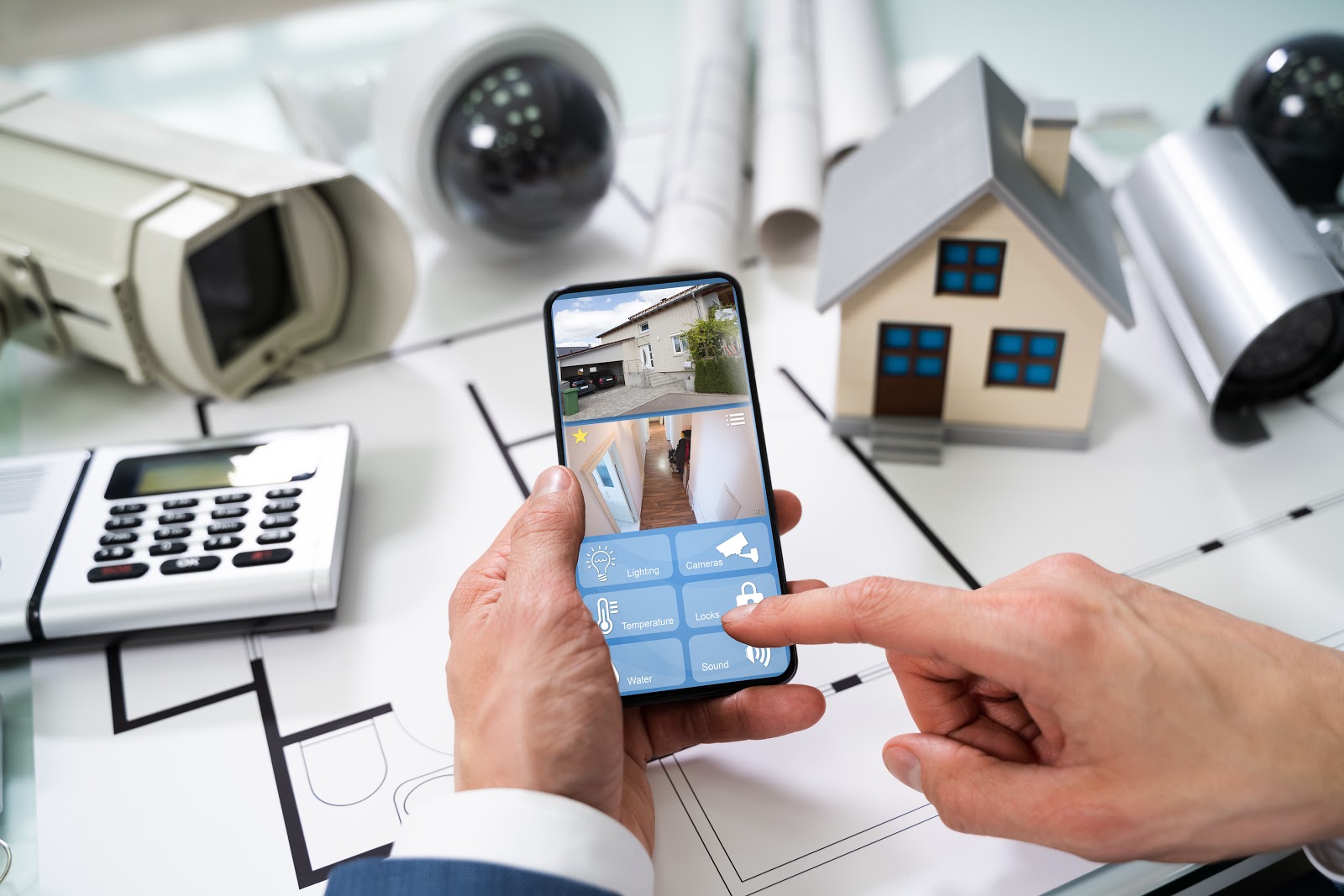 Smart home technology gives homeowners the ability to enhance and fortify their properties. Equipping your home with devices like motion cameras, smart locks, and modern alarm systems, all of which are capable of being controlled remotely from your smartphone or tablet, is an effective way to secure your home and restore peace of mind. 
Our current reality is undoubtedly stressful and has everyone on guard. While it isn't a time for all-out panic, being vigilant is just a matter of being a conscientious homeowner. Today's market is filled with high-tech home security solutions that are surprisingly affordable and fairly easy to install. 
If you want to outfit your home with the latest smart home technologies to deter burglars and prevent break-ins, here are some products that you may want to consider. 
Alarm System –

Installing an

alarm system

that can act as the central hub for your home's

security system

is key. Your alarm should be able to communicate with all of the other security devices and sync them to your

smartphone

or tablet. Linking all of your smart home security devices to your

home alarm

provides seamless functionality for maximum

safety

and convenience. 
Smart Locks –

Who needs keys when you can easily access your home from your smartphone?

Smart locks

allow for keyless entry that can really save you when you're in a pinch. Some smart locks also come with a keypad entry panel in the event your phone is dead and you've left your keys behind. This is also quite helpful when you have forgetful teenagers that need to gain access to the home when you are still at work. Your smart lock will send you notifications when it is unlocked and locked again, so you'll never miss a beat. 
Doorbell and Surveillance Cameras –

Smart doorbells

and

motion sensor surveillance cameras

have skyrocketed in popularity. A device like

RING

and Eufy combine motion cameras with your doorbell. Even if your doorbell isn't pushed, the motion camera will pick up any movement within a certain range. When movement is detected you will get a notification on your smartphone where you can view the most recent footage and decide whether it is a threat or not. RING even offers online communities where you can become a part of your neighborhood watch. You can upload videos about suspicious activity in your neighborhood and report it to authorities. You get to be proactive AND keep your home safe and secure at the same time.

Video doorbells

are also an excellent way to catch porch pirates in the act. 
Smart Light Bulbs –

Smart light bulbs are not only an enhanced safety precaution, but can

save you money

as well. One of the first things we do when we walk into our homes is turn on a light. Now you can program your smart light bulbs to switch on automatically when you unlock your door or enter a room. Smart lights can be paired with devices like Alexa so you can turn them off and on by voice command. And when you're on vacation, you can set your lights to come on in the evening so it looks as if someone is home. The savings are real as well. Smart light bulbs and light switches ensure that you don't leave lights on when no one is in the room, thus saving you money on your electricity bill. If you have young children, you know how difficult it is to get them to turn off the lights when romping from room to room. Smart lighting systems solve all of these problems and more. 
Smart Thermostats –

Now, this is more of a money saver than a

security

measure, but we figured it makes the list all the same.

Smart thermostats

do require

professional installation

but the benefits far outweigh the initial cost. You can greatly decrease your power bill by programming your smart thermostat to adjust to both evening and daytime temperatures, and program it to accommodate changes in the weather. 
Smart Outlets and Appliances –

Now that you have your overall lighting programmed just the way you want it, what about things like lamps or television sets? Smart outlets help to extend the reach of your smart home capabilities. If you don't want to turn on all of the overhead lights, choose to turn on a single lamp so you have a warm glow when you get home. You can also attach electronics like your TV to your smart outlet so that you can have your favorite program on when you walk in the door, or schedule it to turn on your children's favorite movie at just the right time. 
Motion Detector Security Lights –

Outdoor lighting

is always a helpful feature for homes. But this is more about

security

than aesthetics. Having

motion sensor lights

installed around the exterior of your home acts as a deterrent when intruders get too close to your home. These are easily

installed

and can be placed in and around patio doors, backdoors, garages, and front steps to automatically shine a light on any suspicious movements. 
Are You Thinking About Upgrading to Smart Home Technology? 
Express Electrical is taking steps to follow CDC guidelines to the letter in regards to COVID-19. We are enacting added safety precautions to ensure our customers and their home environments are left undisturbed. Express Electrical considers our customers as family, and wants to give you the peace of mind you deserve in this trying time. 
Get around-the-clock protection with our smart home technology upgrades. These are highly customizable and user-friendly devices that allow you to program your home to stay in lockstep with your schedule and collective needs. 
Our certified Los Angeles electricians are available 24/7 and will respond to any call in 60-90 minutes. They are vastly experienced with home electrical automation installation. With 36 years of experience serving all of Southern California, we offer a quality guarantee on every electrical repair and installation that we complete, allowing you to rest easy knowing your project will be completed in a timely and professional manner.
Express Electrical Services champions businesses and homeowners that want to adopt energy-saving techniques that can also keep you safe. We offer superior Los Angeles Electrical Services that can help you save electricity and have a more efficient electrical system. We can help you save money and give back to your planet. To find out more, call us today. 323.727.7799
Share This Post!