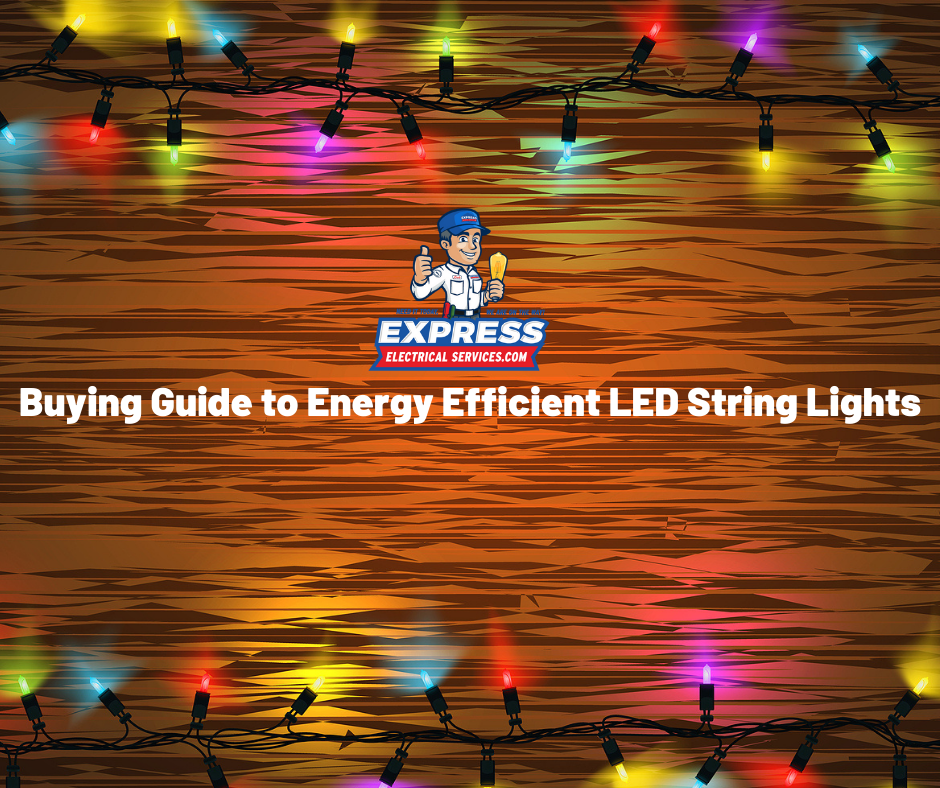 Twinkling lights are a must-have for any holiday display. But did you know that there are other options besides traditional incandescent bulbs? Energy-efficient Christmas lights can reduce costs while also helping the environment. Check out our guide about what makes energy-efficient LED string lights so appealing!
 Buying Guide to Energy Efficient LED String Lights
According to the US Department of Energy, Christmas lights account for 6.6 billion kilowatt-hours of electricity annually. That is enough electricity to power over 14 million refrigerators. LED lighting technology is quickly replacing traditional incandescent and compact fluorescent bulbs. An LED, or light-emitting diode, is more efficient than filaments and other components of older light bulbs.
About Energy Efficient LED String Lights
When people think of Christmas, they usually picture mini-string lights. Energy-efficient LED string lights can be used to decorate everything from trees to sculptures during this time of celebration. 
The best of the bunch for their versatility, globe lights provide an option that will fit almost any holiday décor. Net and tree-plugged light strings are also popular options because they're safe to use outdoors without worrying about leaving them plugged in all year round. When not in use these types of string lights can be stored beneath a deck or inside. Animated string light decorations add life to your holiday display while color-changing LEDs create wildly beautiful backdrops.
LED Christmas Light Facts and FAQ's
Q: Are String Lights Energy Efficient?
A: The cost of lighting a 6-foot Christmas tree for 12 hours a day for 40 days is calculated at $2.74 (assuming 0.119 per kilowatt-hour). The same calculation with LED mini-lights amounts to only 82 cents! This makes them much more energy-efficient, and you can save even more money by utilizing these low-priced lights instead of traditional incandescent ones that are often very expensive in comparison.
Energy-efficient LED Rope Lights
One of the most popular lighting options for holidays and events, LED rope lights are flexible enough to wrap around tree trunks or create sculptures. Outdoor versions have a more durable casing while indoor varieties tend to be less sturdy with thinner PVC jackets that make them easier on your energy bill too. 
Q: How much electricity does a rope light use?
A: LED rope lights are a much more efficient and cost-effective option than their incandescent counterparts. They use only 1 watt per foot, compared to 3 for an average bulb of the same size and brightness. In addition, these LED strands last four times longer. 
Energy-efficient LED Projector Spotlights
We all know how frustrating it can be to put up outdoor Christmas lights, and that standing on top of a ladder in cold weather isn't anyone's idea of enjoyment. But you might have noticed lately there are other ways for your home décor than strings of electric light bulbs strung across roofs! Some people opt instead of spinning stars or even digital blankets made out of animated reindeer walking around outside their homes. 
The latest trend is toward LED spotlights that project a wide variety of scenes onto your house. These allow you to decorate large walls in only minutes, making them some of the easiest outdoor Christmas lights for anyone who wants to get the festivities started with minimum fuss!
Energy-efficient Portable Decorative Lights
One of the fastest ways to decorate a room with lights is by using energy-efficient portable decorative lights. These small, rechargeable battery-powered devices can be placed anywhere in your home and give off an array of colors that will surely delight any guest who walks through your doors. Even if guests only stay long enough to enjoy themselves before going elsewhere again; their presence helps create warmth during those colder, holiday months. 
Contact a Professional Electrician for Energy-Efficient Lighting Installation
Installing energy-efficient LED lighting can be safe and exciting when done correctly. We hope you learned from our light safety guidelines, but if you need help with light installation or ensuring your electrical system is up to handling the extra load, Express Electrical Services can help. Call 805-242-9564 for service in Los Angeles County, Orange County, Ventura County, or the Inland Empire.