Best Generator for Home Power Outage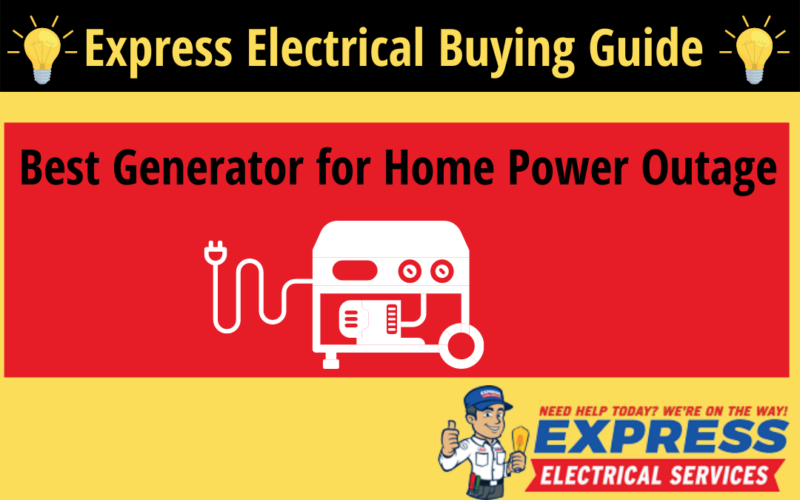 When the grid goes down, you need the best generator for home power outage. But with so many options, how do you pick the one for you?
A power outage can be damaging to people and buildings alike; no lights, no way to keep warm or cool, no refrigeration for food, no way to cook, and no computers or any way to charge your phone. In 2020, a Climate Central study found a 67% increase in power outages due to weather-related events in a two-decade span.
To get the most out of your home generator, you must have the right type and know the features and characteristics to consider.
Different Types of Generators
A generator produces power using an engine, which turns an alternator that delivers alternating current (AC) power. This passes through a voltage regulator, so the system can provide 120 V or 240 V for anything that's plugged in. When choosing the best generator for home power outage, consider the following options:
Home Standby Generators
A standby unit is a permanent installation and connects directly to your electrical panel. It monitors the inflow of power from the local utility. If there's an outage, the generator turns on automatically, and self-diagnostics alert you when to schedule maintenance. Home standby generators are usually powered by propane or natural gas, although some use diesel.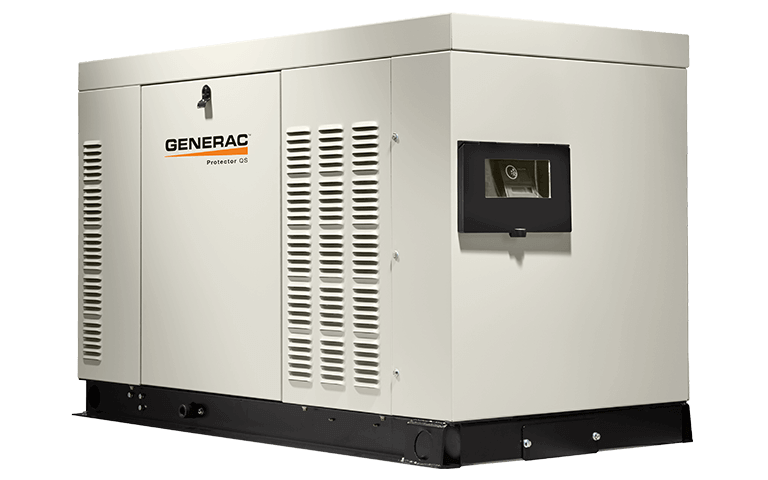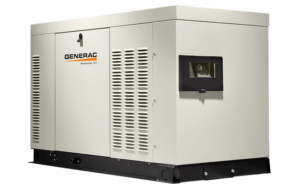 The Generac 22000-Watt (LP)/19500-Watt (NG) Air-Cooled standby generator is suited for installation in large homes. Using natural gas, it can generate 22,000 running watts; on propane, it can produce 19,500 running watts. It can also use your home's existing gas line. Wi-Fi connectivity lets you monitor the generator from anywhere.
Portable Generators
Cost less to install but often require significant quantities of gasoline, which must be combined with a stabilizer for long-term storage (there are also propane, diesel, and multi-fuel generators). While portable generators can be used anywhere, they must be kept at least 20 feet away from your home or AC equipment to protect against carbon monoxide (CO).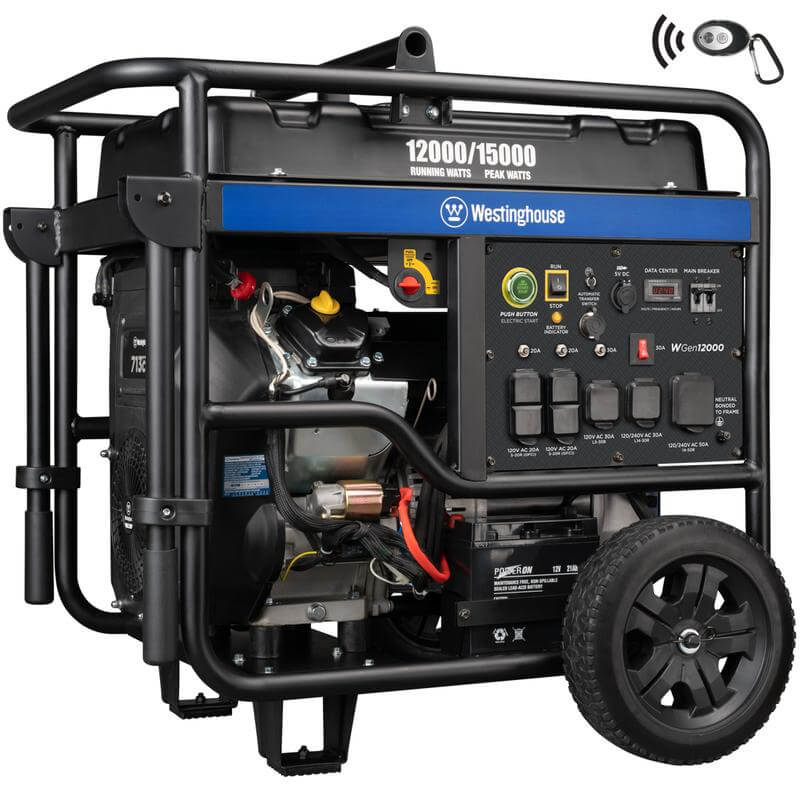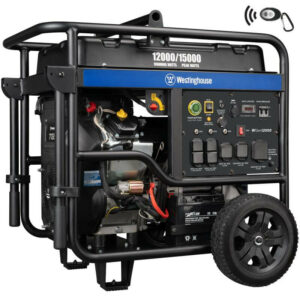 Portable generators come in a wide range of power output ratings. Some are large enough to supply all your power needs. The Westinghouse WGen12000 is a 12,000 W portable generator suited for small homes; its gas engine can run for up to 16 hours on 10.5 gallons of fuel. If you need something portable and affordable, the WEN GN6000 produces 5,000 watts of power and needs just 3.4 gallons to run up to seven and a half hours.
Inverter Generators
Inverter generators are more complex and costly; a sophisticated exhaust system minimizes noise and emissions. They can match demand by throttling up and down. The generator doesn't always run at full power. Also producing 120/240 V, it converts this to direct current (DC) that gets inverted back to AC, resulting in less current distortion that can damage electronics.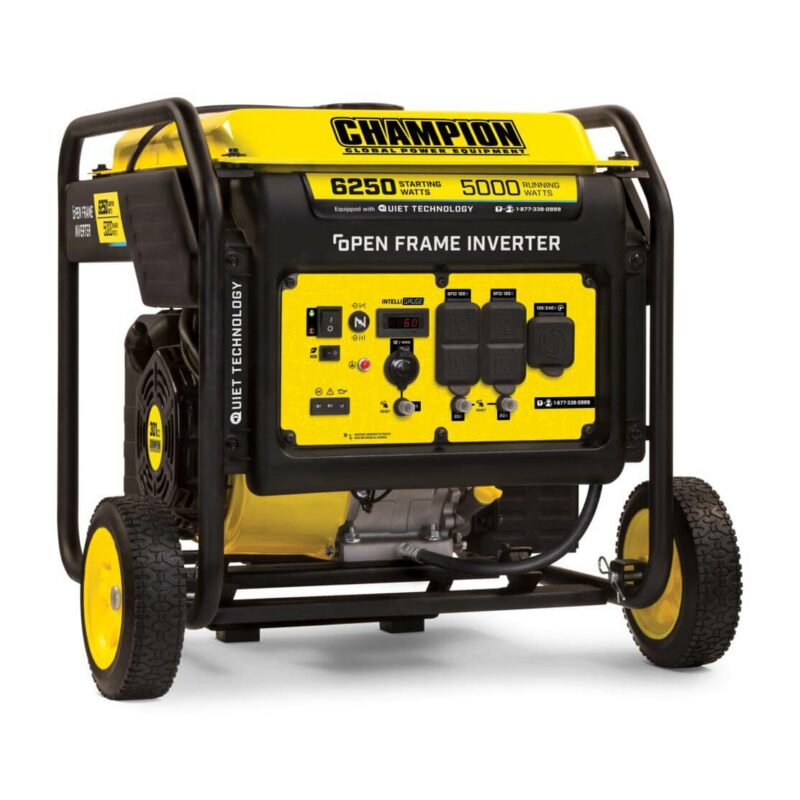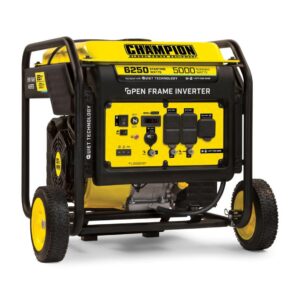 The Champion Power Equipment 100519 is an open-frame inverter generator that delivers 5,000 W and is powered by gasoline, while producing only 69-decibels of noise. It can run for up to 12.5 hours on 4.2 gallons. A 30 A household outlet, four standard electrical outlets, and a USB adapter are included.
Portable Power Stations
A portable Power Station is battery powered and charged by being plugged in to an electrical outlet. Some models include solar panels. Since there's no engine, the generator is quiet and doesn't emit carbon dioxide or other gases. The downside is power output isn't as high as with other generators, so you can't run as many appliances or use the generator for long without recharging it.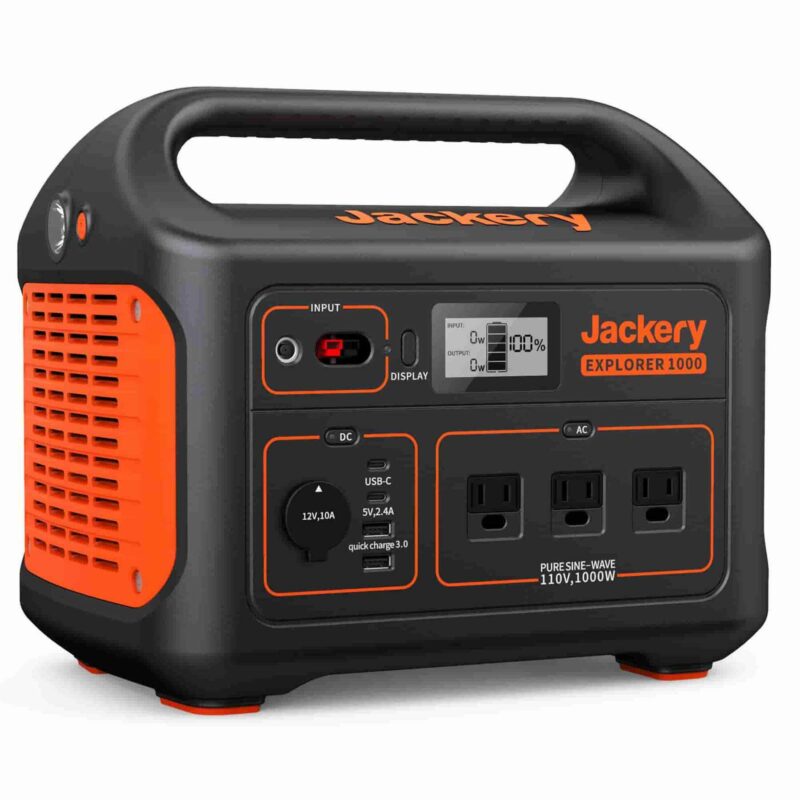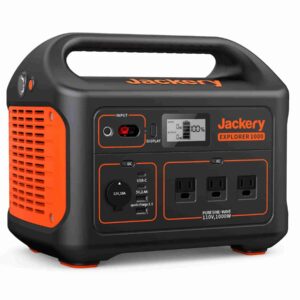 The Jackery Portable Power Station Explorer 1000 has a 1,000 W output capacity. It can be fully charged using a portable generator, standard electrical outlet, or car charger (which takes eight hours). While it won't power your entire home, the system can support several devices.
Considerations
Several factors impact a generator's functionality and usefulness. The most important consideration you should include:
Fuel options: Gasoline is readily available but more expensive, while diesel is more affordable, efficient, and easier to store. Propane is affordable and clean-burning and natural gas used for standby generators is supplied by your gas line.
Size: Generators range from 800 to over 50,000 W. Running watts refers to capacity in terms of supplying electricity, while starting watts is what the unit can produce for a few seconds to support increased demand. The two determine what you can run simultaneously and for how long.
Safety: Make sure you know how to properly use the generator and install grounding to protect against electrical surges. Newer generators often have a built-in sensor to detect carbon monoxide levels and shut it off if necessary.
Transfer switch: Provides a safe cable connection to a standby or portable generator. No extension cords are required to power entire circuits. The switch easily transfers from grid power to generator power; manual and automatic transfer switches are available.
Features to Look For
A generator can be safe, easy, and convenient to operate with the following features:
Low CO engine for fewer emissions.
Electric start such as a push-button, switch, or remote control.
Low oil shutoff to prevent engine damage.
Multiple outlets that help distribute electrical load.
Fuel gauge to monitor fuel tank levels.
Automatic start for little or no disruption of power during outages.
Removable console to plug in appliances without extension cords.
Contact Express Electrical Services
We meet customers' electrical installation and safety needs in the Los Angeles area. If you need help finding the best generator for a home power outage, our team can work with you and quickly and safely complete installation. Our company offers same-day service and guarantees 100% satisfaction. To request service, submit your information online or call 323-727-7799.