Best Generator for Home Power Outages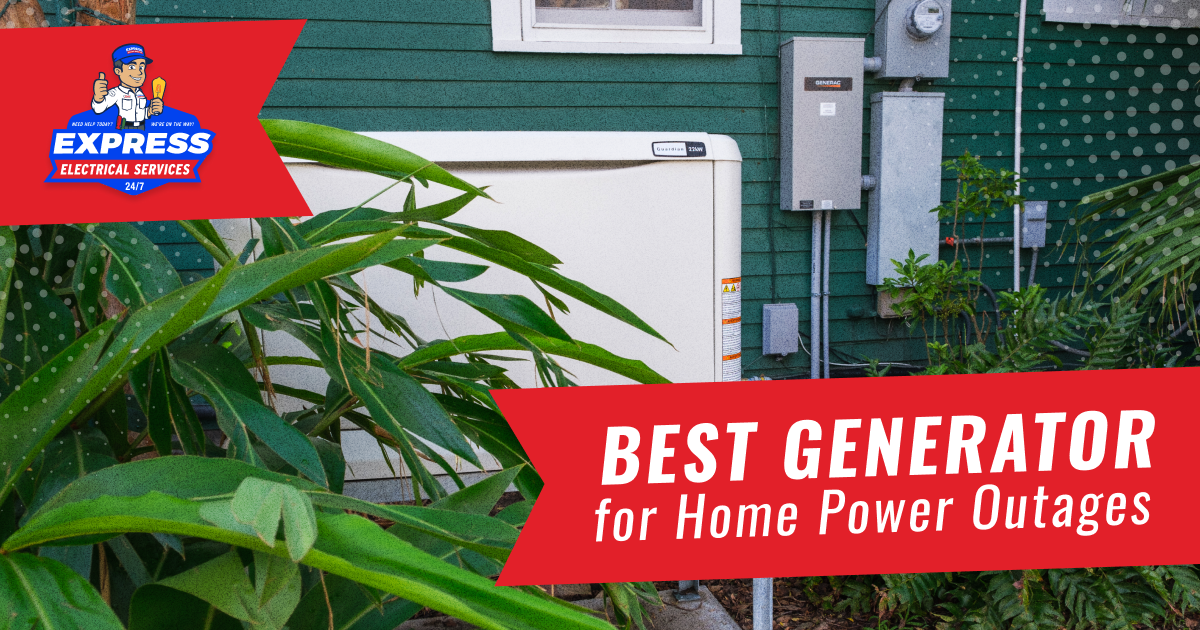 The best generator for home power outages will keep the lights on and your food cold. It also lets you use the computer or cook. Power outages are becoming more common, and extreme weather is one reason. According to Climate Central, a non-profit research group, the number of weather-related outages increased by about 78% during the 2011 to 2021 period compared to 2000 to 2010. California has among the most reported power outages related to storms and wildfires.¹
If you've experienced power failures or are concerned about the risk of one, our Los Angeles electricians will help you install the best generator for home power outages.
Types of Home Generators
There are a few types of generators, depending on your home's electrical needs. Here are some common ones you can choose from:
Portable Generators

: A portable generator isn't as costly to install but is better suited for short-term use. Its power output is limited, so you may be able to operate a power tool or shop vacuum during an outage. Portable systems may use gasoline, propane, or diesel. If storing gasoline over the long term, a stabilizer must be added. Portable generators can release carbon monoxide, so never install them closer than 20 feet from your home.

Portable Power Stations

: A battery-powered option, a portable power station charges by plugging it into an outlet. It does not have an engine. Therefore, the generator is quiet and doesn't emit fumes. Some models can run on solar power. However, not many appliances can run on it since it has a relatively low power output. 

Inverter Generators

: Inverter generators are lightweight, easy to transport, and relatively quiet. An advanced exhaust system helps reduce noise. An engine and alternator produce AC power, which is converted to DC power (120/240 V) that can be stored. The power level can be increased or decreased to match demand. However, these generators are best suited for camping, tailgating, or RV trips. 

Standby Generators

: A whole-house generator provides enough power output for your entire home and usually runs on propane or natural gas. It's the

best generator for home power outages

if you need to keep every appliance running. It monitors the flow of power from the grid. Connected directly to your electrical panel, it will automatically kick in if there's an outage. Some units have self-diagnostics to inform you of when to schedule maintenance.
How to Determine the Right Generator Size
A generator won't meet the needs of your home if it's not the right size. To choose the best-sized generator, add the wattages of everything you expect to power during an outage. But the calculations can be tricky. Air conditioners, refrigerators, sump pumps, and other high-power appliances draw more power as they cycle on, which must be accounted for. Generators range in capacity up to 50,000 watts, but 5,000 to 8,000 watts is enough to power a typical home.
Home Power Generator Features
The best generator for home power outages also depends on its features. When shopping for a generator or consulting with an electrician, consider the following:
Safety Shut-Offs

: Sensors are often integrated to detect

carbon monoxide

or low oil levels and shut off the system when necessary. Generators should also be grounded to protect against surges. 

Transfer Switch

: This avoids using an extension cord and provides a safe cable connection, allowing the system to transfer smoothly from grid to generator power.

Easy Startup

: Many generators have a pushbutton or switch, or can be operated via remote control. Whole-home systems often start automatically, so there's no disruption in power.
Other useful features include fuel gauges so you can monitor the tank level. There are also generators with multiple outlets, so the electrical load can be safely distributed. If using specific appliances, a unit with a removable console can let you plug them in without needing extension cords.
Express Electrical Services Can Help You Find the Best Generator for Home Power Outages
Our Los Angeles licensed electricians are trained to evaluate your home and determine the best type and capacity of generator to install. We've safely installed whole-home generators across the Los Angeles area and beyond. You can expect the highest quality service. We guarantee 100% satisfaction and offer specials and coupons to help you save. Whether you want to know the cost of a whole-home generator or have a GFCI outlet or new electrical panel installed, contact Express Electrical Services online or call (888) 350-7869.
Source: