What Types of Anaheim Electrician Services Improve Home Safety?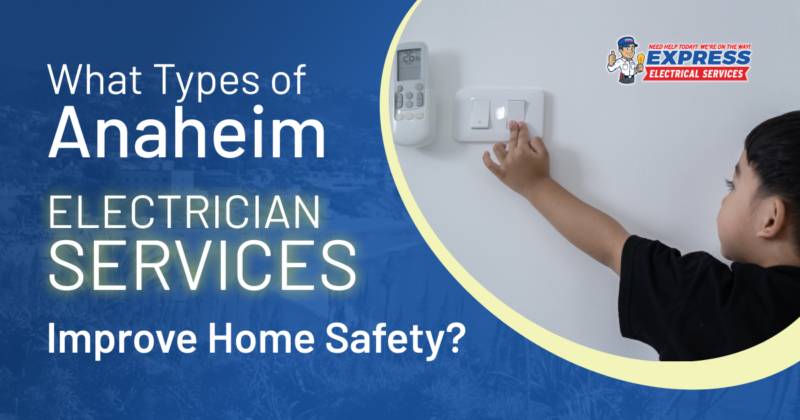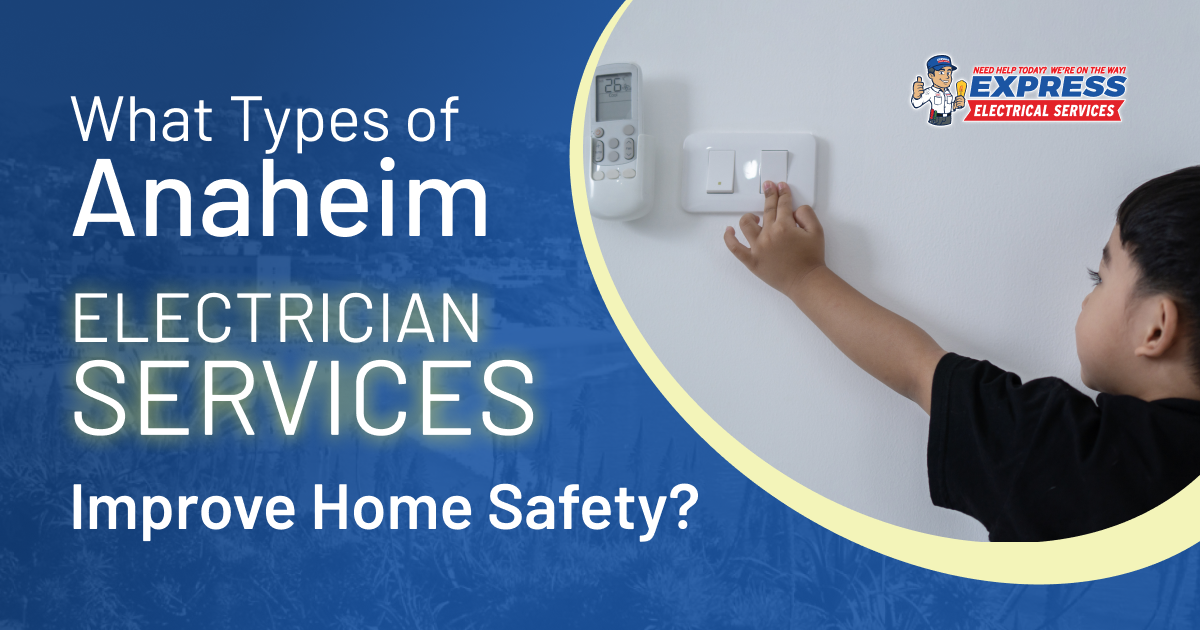 Express Electrical Services is known for professional electrical repair, installation, remodeling, and safety services in Anaheim, Los Angeles, and surrounding areas. Many Anaheim electrician services can improve home safety. We'll explore this aspect of electrical service, which many homeowners don't consider, to help you better understand the role of an electrician.
Anaheim Electrician Services
Electrical Repairs
According to the National Fire Protection Association (NFPA), an estimated average of 46,700 home fires occurred each year (between 2015 and 2019) due to electrical problems. Over two-thirds of these were due to wiring and electrical equipment problems.¹ A large fire can grow from a small flame in seconds, and flames often start at a faulty wire or outlet. Therefore, repairing an aging, overloaded, or otherwise damaged component can vastly improve your safety.
Breaker Panel Upgrade
An overloaded circuit breaker panel can cause an outage or its components can overheat, melt, and catch fire. If you have just a 100-amp panel, or a 60-amp panel that was common in older homes, upgrading to a 200-amp panel will allow you to safely add more circuits and electrical appliances. Your electrical panel supplies electricity to your entire home, so a problem here can mean exposure to high voltages, which can cause shocks, burns, fires, electrocutions, and major damage to electrical components, appliances, and your home.
Fixing Code Violations
Electrical codes exist and are updated to reflect the latest safety standards. Undersized circuits, overloading, overcrowded wires, mislabeled circuits, and a lack of GFCI or AFCI outlets can violate your local building code. Schedule periodic safety inspections to ensure your home is up to code and to reveal potential violations and hazards. As part of these electrician services, an electrician in Anaheim can advise you on options to repair and upgrade your system.
Whole-Home Surge Protection Installation
Electrical surges can come from high-power appliances such as air conditioners or outside events like lightning strikes or power line issues. A power surge can damage appliances and electronics and fry circuit boards in computers and TVs. A whole-home surge protector can avoid the hazards of power spikes and help costly appliances and devices last longer.
Smart Home System Installation
Professional installation alone improves safety by wiring equipment correctly and avoiding mistakes. Smart security alarms/cameras and security lighting connected to motion sensors, timers, and other technologies can protect your home from break-ins. We also install and hard-wire smoke and carbon monoxide alarms to ensure you're protected in case of smoke, a fire, or a gas leak. Additionally, our team will verify all components installed are compatible with one another and your home electrical system.
Knob and Tube Upgrades
If your home was built more than 100 years ago, check if it has knob and tube circuits. These cannot handle the power that runs through an average home today. At Express Electrical Services, we specialize in rewiring old homes in Southern California to eliminate the hazard of antiquated electrical systems. It's a big job but increases electrical capacity, adds a grounding conductor, and avoids the dangers of old, brittle wiring and insulation. It can also make your home insurable and more valuable.
Schedule Anaheim Electrical Services Today
Express Electrical Services is committed to improving, restoring, and maintaining the electrical safety of your home. We can update your system to three-prong outlets, add ground wires, or install a whole-home surge protection system. Same-day services can be scheduled and we're available 24/7 to respond to emergencies. Call (323) 275-4082 to request service or receive more information.
Source: