Is Whole House Surge Protection Worth It?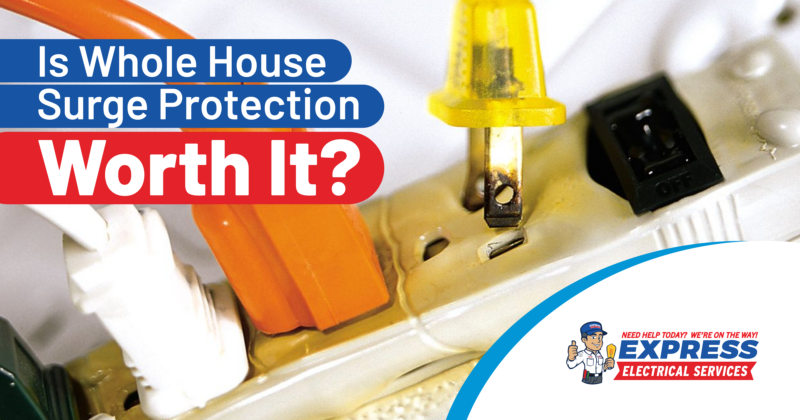 Homeowners in Los Angeles and much of Southern California rely on Express Electrical Services to install whole house surge protection. Installation is generally just a few hundred dollars. By comparison, a massive electrical surge can short out large appliances that can cost thousands to replace. Customers often ask, "Is whole house surge protection worth it?" To answer this all-important question, here's a look at why we think so.
Why You Should Consider Protecting Your Home from a Surge
The Cost of Surge Damage Is High
According to the Insurance Information Institute, lightning-caused surges resulted in over $1 billion in homeowner's insurance claims in 2021 (40% of that was in California). While the number of claims per year declined, the average cost of claims related to lightning-induced surges increased several years in a row. The average cost per claim rose from nearly $11,000 in 2017 to over $21,000 in 2021, spiking to nearly $29,000 in 2020.
Power Surges Come from Outside and Inside Your Home
Most of us associate powerful surges of electricity with downed power lines or intense lightning strikes. Indeed, these can cause sudden and catastrophic damage. Accidents, wind, animals, and other causes of power line damage can seriously affect your home, while problems with utility electrical equipment can as well. Rolling blackouts can wreak havoc on your electrical system.
However, up to 80% of power surges are barely detectable and originate from within appliances and home wiring. Small voltage spikes can be triggered by motors in air conditioners, refrigerators, and other appliances that frequently turn on and off. The damage builds up over time, but can decrease performance and shorten a fridge's, microwave oven's, or washing machine's lifespan. That's one reason why whole-house surge protection is worth it.
Electrical Surges Are More Common Than You Think
On average, about 20 power surges affect your home every day. Millions of lightning strikes happen every year in the U.S. Surges are extremely common. Many are insignificant and merely part of the regular oscillation of voltage, which in a 120-volt system, can range up to 169 volts without causing any damage (harmful surges can occur when it exceeds 170 volts).
Modern Devices Are Extremely Vulnerable
Today's hi-tech appliances are expensive but contain very sensitive circuitry. An appliance that generates a surge can be easily damaged by it. Even a minute amount of damage to an appliance's circuit board can render it useless. The same process can wipe out data on personal devices. Smartphones, tablets, and even LED bulbs are extremely sensitive to power surges.
Whole House Surge Protectors Can Prevent Home Fires
A powerful surge can overheat wiring, resulting in sparks, arcing, and home fires. To improve safety, many surge protection systems can shield against spikes of 40,000 amps or more. A single fire can be deadly and destroy your entire home, so whole house surge protection is worth it when you consider the potential harm a surge can do to life and property.
Systems with Different Power Ratings Are Available
A 120-volt system is well-served by an 80 kiloampere (kA)-rated surge suppression system. It's more than enough because surges above 10 kA are rare and it's unusual to see an electrical surge in a home that exceeds 50 kA. Nonetheless, there are whole house surge protection systems rated for different needs. If lightning is common in your area, consider a higher-rated system.
Meanwhile, some surge protection systems separate power, phone, and cable lines at the main panel. Any system you choose should include failure indicators. Internal fuses are useful as well as they provide an additional layer of protection. Speak to your electrician about what type of system is most suited for your home and learn more about why whole house surge protection is worth it. 
Contact Express Electrical Services
We provide whole house surge protection systems to customers throughout Southern California. Our team helps find the right options, select the best system, and install the device at your electrical panel. You can trust Express Electrical Service to get it right. Our electrical technicians are trained and experienced as well as equipped to anticipate any issues that arise along the way. To learn more or schedule service, book now online or call 888-350-7869.